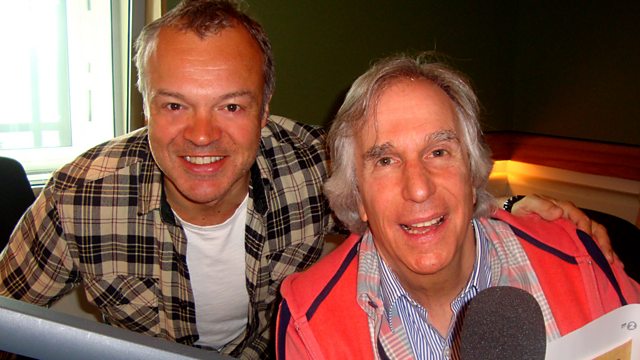 Starring two American TV icons, Henry Winkler and Kathy Griffin
Graham's first guest was The Fonz himself, Henry Winkler, who spoke about his passion for helping children to read, the books he's written based around the character of Hank Zipzer, his love of panto and tweeting. Then Emmy-winning comedienne Kathy Griffin popped in to talk about her one woman show, her Irish heritage and her taste in music, including her unashamed love of Bieber-fever!
And in this week's 'Grill Graham', Debra in Tipton had an issue with £40 that she'd lent, but was never paid back, and Angela in Edinburgh's problem was that she couldn't remember where she'd placed her daughter's birthday present! Riveting stuff.
But before all that, Maria McErlane divulged the details of a date she'd been on the night before... Will there be a second date? Probably not.
Martyn in Stamford was responsible for this week's 'I Can't Believe It's Not Better' song, which was 'Convoy GB' by former Radio 1 DJs Dave Lee Travis and Paul Burnett. And Carol Ford in Telford chose the beautiful 'Guess Who I Saw Today?' by Eydie Gorme as her 'Tune with a Tale'.
Last on