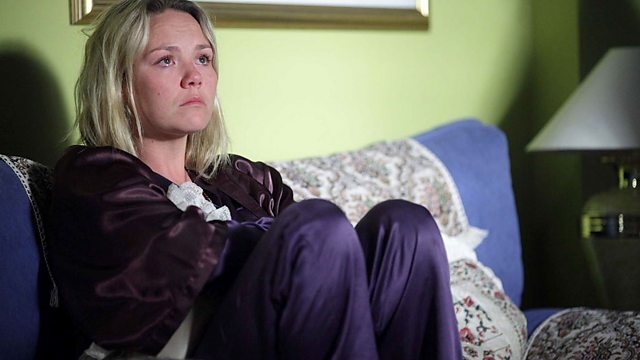 14/06/2011
In shock, Janine stumbles out of the flat to get help. Yusef assures her there's nothing she could have done to prevent Lydia's death. Pat comforts Janine, but they soon start to argue. Crying, Janine reads Lydia's letters to June. At the Vic, Pat, Ryan and Patrick discuss Janine. Janine walks in and Pat tells her that everyone thinks she killed Lydia.
Max and Vanessa announce their engagement to the girls. Jodie's thrilled, but Abi and Lauren aren't so enthusiastic. To Max's dismay Jodie and Vanessa immediately start researching elaborate wedding venues. Tanya confronts Max after hearing the news, he claims he's happy. Vanessa plans an engagement party.
Ian's sacked Billy, having decided to run the fruit stall himself.
It's Christian's birthday and he's in a foul temper, angry that Syed has the details for a flat that isn't child friendly and unimpressed when he learns they're going to a drag revue with Tanya and Roxy. When the four meet in the pub, Tanya's jokey birthday card proves the final straw for Christian who heads home insisting he's not in the mood.
Michael disappeared for the weekend. On his return, he's angry to find Ronnie in Roxy's flat. Mistakenly thinking Roxy's told Ronnie everything about his mother, Michael's furious. Ronnie asks what happened and, emotional, Michael tells her the whole story. Roxy's bemused when she comes home to find Michael and Ronnie together. Michael tries to hug Roxy; eventually she relents and lets him.
Fatboy runs late for Mercy's hearing, arriving at the last possible moment wearing a borrowed suit. Fatboy makes an impassioned speech on his wife's behalf, but later worries that he's ruined Mercy's chances.
Carol warms to Eddie after he unblocks the café sink for her, but he turns down her offer of a drink.
Last on
Credits
| Role | Contributor |
| --- | --- |
| Janine Malloy | Charlie Brooks |
| Pat Evans | Pam St Clement |
| Christian Clarke | John Partridge |
| Syed Masood | Marc Elliott |
| Roxy Mitchell | Rita Simons |
| wood, jake | Jo Joyner |
| Max Branning | Jake Wood |
| Vanessa Gold | Zoe Lucker |
| Jodie Gold | Kylie Babbington |
| Lauren Branning | Jacqueline Jossa |
| Abi Branning | Lorna Fitzgerald |
| Mercy Chubb | Bunmi Mojekwu |
| Arthur 'Fat Boy' Chubb | Ricky Norwood |
| Grace Olubunmi | Ellen Thomas |
| Kim Fox | Tameka Empson |
| Executive Producer | Bryan Kirkwood |
| Director | Karl Neilson |
| Writer | Christopher Reason |
| Eddie Moon | David Essex |
| Carol Jackson | Lindsey Coulson |
| Michael Moon | Steve John Shepherd |
| Ronnie Branning | Samantha Womack |
| Billy Mitchell | Perry Fenwick |
| Patrick Trueman | Rudolph Walker |
| Ryan Malloy | Neil McDermott |
| Ian Beale | Adam Woodyatt |
| Dr Yusef Khan | Ace Bhatti |
| Liam Butcher | James Forde |
| Judge Jasper Patterson | Ian Targett |
| Presenting Officer | Kolade Agboke |