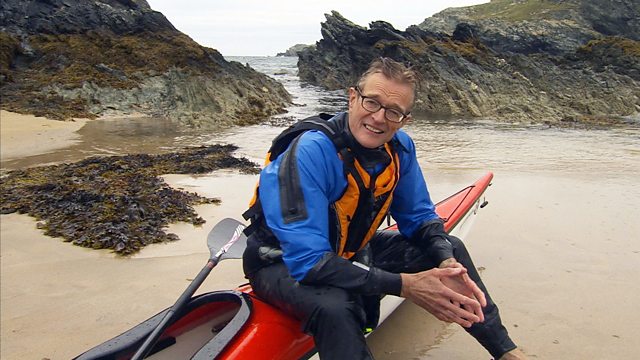 Coast returns with another journey around the edge of the British Isles and beyond to see how shared seas unite us with our European neighbours. The latest adventure begins in the historic heart of London, continues along the south coast of England and out across the channel to explore the curious coast of Belgium.
Nick Crane discovers why the world's biggest cargo ships are on course for London as he joins the struggle to construct a new mega-port as a gateway to the capital. Nick's epic new voyage then takes a strange turn as he crosses the channel to Belgium; he rides one of the longest tramways in the world, the Kusttram, which runs the entire length of Belgium's coastline and he investigates how a beautiful seaside resort became the base for Albert Einstein's battle against Nazi tyranny. Nick also hunts down a forgotten masterpiece of surreal artist Rene Magritte, whose 'fish-headed woman' is just one of the extraordinary figures hidden away inside a grand casino on the Belgian coast.
Neil Oliver reveals the remarkable tale of Hitler's audacious gamble in 1942, when his biggest battleships steamed straight along the English Channel in broad daylight defying both the Royal Navy and the Royal Air Force. Neil uncovers how the desperate fight to stop Hitler's warships within sight of the white cliffs of Dover made heroes of the few brave British forces who threw themselves against the might of the German Navy.
Alice Roberts uncovers the surprising story behind the rise and fall of the seaside landlady, formidable female pioneers who began businesses long before women had the vote. In Margate Alice learns the secrets of being a successful landlady from women who together have over 100 years experience in ruling the roost.
In the fabulously preserved medieval city of Bruges, Mark Horton unearths why our ancestors came there 700 years ago to re-discover the forgotten art of making bricks, skills that were lost to Britain for centuries after the Romans left these shores.
Plus Miranda Krestovnikoff is on the Belgian coast to meet the last few men who still use heavy horses to fish for shrimp. Miranda rides out to sea on one of the giant horses to experience an age-old way of life on the verge of extinction as the shrimp fishermen are being squeezed out by coastal development.
Last on
More episodes
Previous
You are at the first episode
Credits
| Role | Contributor |
| --- | --- |
| Presenter | Nicholas Crane |
| Presenter | Neil Oliver |
| Presenter | Alice Roberts |
| Presenter | Mark Horton |
| Presenter | Miranda Krestovnikoff |
| Executive Producer | William Lyons |
| Series Editor | Steve Evanson |