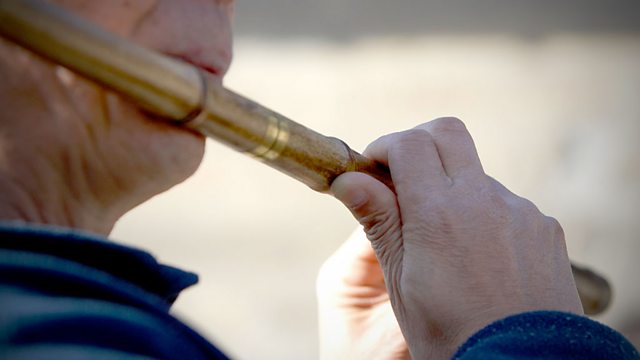 On the Rubble of My Home I Played My Flute
Guo Yue is a master of the Chinese bamboo flute. His father was an ehru (Chinese violin) player and from birth he was immersed in the rich soundscape of a musician's compound in old Beijing; neighbours practising traditional music; Beijing opera; as well the music the sounds of the hutong, the courtyards and alleys of old Beijing - songbirds in cages, street cries, chopping vegetables and cooking.
Yue was eight when the Cultural Revolution began. Red guards almost killed his mother and took her away. Yue and his 12-year-old brother Yi were left alone. He spent his time - hoping to make his mother proud on her return - sitting in the compound practising his bamboo flute. Yue saw terrible things, yet remembers the revolutionary songs with affection - and still sings them. The brothers, and their sister were involved in a performance in Tiananmen Square in front of Mao himself.
Sent out of Beijing with the military, Yue managed to avoid regular army duties by leading the marching on his flute. At 16 he won a place as flautist in an army orchestra and travelled the country playing for the soldiers.
In his early twenties, Yue left China to study at the Guildhall in London. He performs across the world and can now return to Beijing. His hutong is still there but on a recent visit he found that his house had been knocked down. So he stood on the rubble and played his flute.
In this Between the Ears, memories, music and sounds work in several ways simultaneously. Street noises and chopping prompt Yue's memories - and these prompt him to play his flutes. New performances as well as the sounds of Chinese life, Cultural Revolution songs,recordings of rallies and parades and Guo Yue's reminiscences cohere to create a memoir of his life.
Producer: Julian May
First broadcast in 2011.
Last on