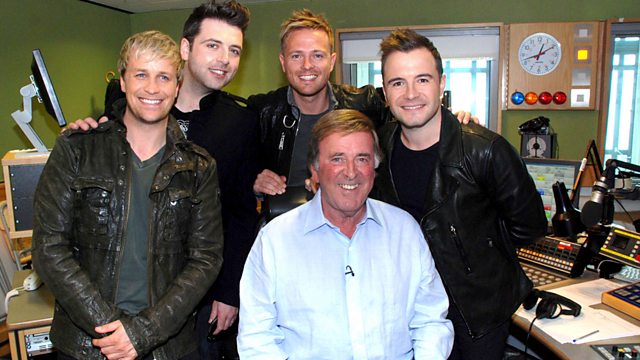 12/06/2011
Sir Terry Wogan presents his Sunday morning show, easing you into your Sunday lunch with music and musings.
Each week Sir Terry invites a star, a superstar or a rising star to the studio each week to perform an intimate, stripped-down performance. Within this part of the show Sir Terry showcases great musical performance, song-writing and artistic talent. He also chats with some of the biggest names from the worlds of music, theatre, film and TV.
This week Terry invites Westlife in for a chat, and Sophie Ellis Bextor performs.
Formed in 1998 and originally signed by Simon Cowell, Irish boyband Westlife are one of the biggest groups in Irish or British history, having sold more than 44 million records worldwide. With 14 No. 1 singles in the UK chart to date, they are tied in third place with Cliff Richard in terms of number of Number Ones, behind only Elvis Presley and The Beatles. As well as their music, Westlife - as a group and as individuals - are involved in a number of philanthropic activities, and their Comic Relief cover of 'Uptown Girl' became their biggest selling single in the UK. The group have released 10 studio albums, and their latest compilation album is scheduled for release later in the year.
BRIT-Award nominated Singer-songwriter Sophie Ellis Bextor, daughter of former Blue Peter presenter Janet Ellis, started out in indie rock band Theaudience in the late nineties, before teaming up with DJ Spiller to release the successful No.1 single 'Groovejet (If This Ain't Love)'. Bextor's debut solo album Read My Lips was released in 2011 and reached No. 2 in the UK charts. After a further two albums, Sophie is back with her fourth instalment, Make A Scene, which is due for release on 13th June.
Last on