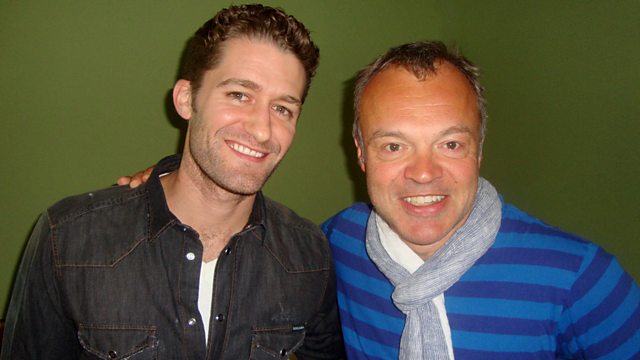 Derren Brown and Matthew Morrison - a Svengali and a sweaty Schuester in Swahili!
Graham was joined in the studio this week by Derren Brown who, as well as talking about his new show 'Svengali', also discussed his love of parrots and why he should never be trusted with a wheelchair.
After 12 Glee's 'Mr Schuester' - AKA Matthew Morrison - discussed the best way to capture sweat, the joys of being dubbed into Swahili and why his mum still does his hair. Oh, and he's on tour as well apparently.
In the latest thrilling installment of 'Grill Graham', 'Mrs F' sought advice for her poor son who was about to wave his girlfriend off to a far-away university, while Mr Norton got very annoyed with Emma's brother's girlfriend (got that?) over a parking ticket dilemma. Take a deep breath Graham.
Jimmy Osmond's 'Long-Haired Lover from Liverpool' was this week's 'I Can't Believe It's Not Better' choice, sent in by 'Rob from Devon'. That's rather vague... no wonder.
'Tune with a Tale' came from Bev Ardley, who brilliantly explained to us that Gene Pitney's '24 Hours from Tulsa' was about a man with very loose morals. You'll never hear the song in quite the same way again!
Last on