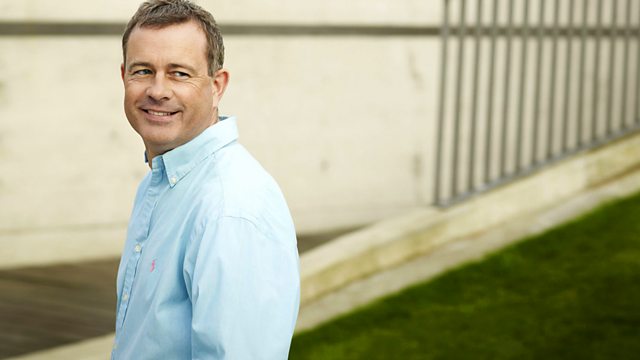 Thursday - James Jolly
With James Jolly. This week musicians and music associated with the Aldeburgh Festival, and Pierre-Laurent Aimard, the festival's current artistic director, is our Artist of the Week.
10.00
Rossini
Il Barbiere di Siviglia: Overture
Chamber Orchestra of Europe
Claudio Abbado (conductor)
DG 431 653-2
10.07
Albeniz
Bajo la palmera (Cantos de Espana) [Beneath the Palm Tree]
Julian Bream & John Williams (guitars)
RCA 09026 61452-2
10.13
Beethoven Piano Sonata Cycle
Sonata in G major, Op.49 No.2
Melvyn Tan (piano)
VIRGIN CLASSICS VBD 562368-2
10.18
Britten
Four Sea Interludes from Peter Grimes
London Symphony Orchestra
Steuart Bedford (conductor)
COLLINS CLASSSICS 10192
10.43
Artist of the Week
Janacek
Pohadka
Anne Gastinel (cello)
Pierre-Laurent Aimard (piano)
AUVIDIS VALOIS V4748
10.55
Bach
"Mache dich mein herze rein" (St Matthew Passion) Dietrich Fischer-Dieskau (baritone) Munich Bach Orchestra Karl Richter (conductor)
Archiv 439 338-2
11.08
Benjamin Britten drew many great musicians to his festival in Aldeburgh, including Dietrich Fischer-Dieskau, Julian Bream and Russian pianist Sviatoslav Richter, who is the soloist in Mozart's Piano Concerto in E flat, K.482, with Benjamin Britten conducting the English Chamber Orchestra. Britten wrote the cadenzas at Richter's request specifically for this performance. Britten dared to step outside the musical language of Mozart's original and express the full sonorities and virtuoso displays that a grand piano is capable of in an extraordinary mix of musical styles and melodic invention.
Mozart
Piano Concerto No.22 in E flat major, K.482
Sviatoslav Richter (piano)
English Chamber Orchestra
Benjamin Britten (conductor)
BBC Legends BBCB8010-2.
Last on