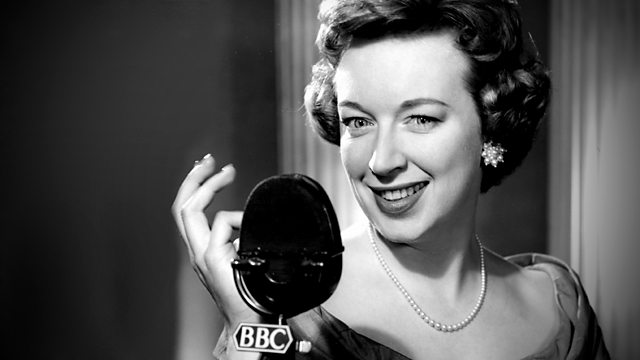 Take It From June
Comedy legend June Whitfield talks to radio drama director Enyd Williams about her amazing career in BBC radio - spanning over 60 years. Though June is a star of BBC TV, from Absolutely Fabulous to Terry and June, radio remains June's true love.
June picks some of her very favourite performances - as we journey with her from her big break on radio, joining the team of Take it From Here in 1953, to working with comedy greats like Ronnie Barker, Frankie Howerd and Bob Monkhouse - to playing Mrs Thatcher on Radio 2's The News Huddlines - and being cast as Radio 4's Miss Marple, by drama director Enyd Williams:
*Take it From Here
From 24/04/1957
Can Mr Glum stop Ron and Eth marrying in a court of law? Stars Jimmy Edwards and June Whitfield. From April 1957.
*Crowther's Crowd
From 07/12/1963
Comedy sketches at the ready with June Whitfield, Ronnie Barker and Leslie Crowther. From December 1963.
*The Frankie Howerd Show
From 07/01/1966
Titters galore from the comedy legend, with June Whitfield, Wallas Eaton and Robertson Hare. From August 1966.
*Punch Line
From 21/05/1980
Can the stars come up with just the right punch line? Starring June Whitfield, Kenneth Connor and Bob Monkhouse. From May 1980.
*The News Huddlines
19/10/2000
Roy Hudd's topical sketch show that ran for 26 years on BBC Radio 2. With June Whitfield and Chris Emmett. From October 2000.
*Murder At The Vicarage
From 28/12/1993
The amateur sleuth looks into the Colonel's murder in the vicar's study. Agatha Christie's thriller stars June Whitfield.
Produced by Peter McHugh
First broadcast on BBC Radio 4 Extra in 2011.
Featured in...
A selection of programmes celebrating 125 years since the birth of The Queen of Crime.