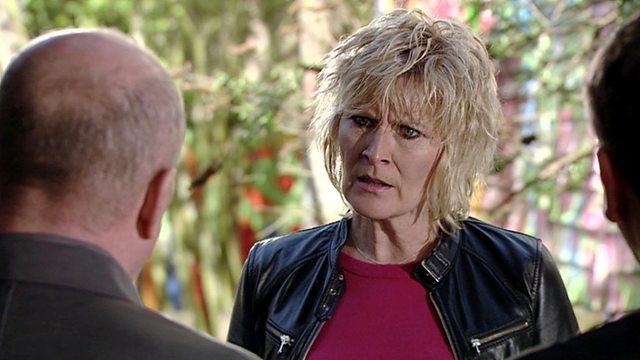 03/06/2011
Denise is fed up; Yusef's spending more time with Zainab than with her and didn't initially tell her Masood caused his injuries. Denise tells Yusef to put their relationship first, insisting he meet her in the park rather than go to see Zainab. Yusef visits Zainab and lies to her about the events in the warehouse, talking at length about the smell of petrol. Distressed, Zainab embraces him, but pulls away after Yusef asks what people would think: Yusef leaves, smiling. Denise allows Masood to stay at the B&B. Masood tries to explain everything to Tamwar, but when he admits Yusef's story is partly true, Tamwar walks out. Denise is about to give up on Yusef when he arrives in the park with a large bouquet of flowers.
Ricky claims Phil was playing cards with him last night, but Shirley confronts Rainie, sure Phil was with her. When Shirley pins Rainie against some railings, Yusef intervenes. His comments make Shirley realise Phil might have been to blame for Yusef's injuries. Shirley confronts Phil, aware he's in danger of going off the rails just like the last time Ben last went away. When Phil scoffs at the idea of going to a support group meeting, Shirley tells him she won't be around to watch him destroy himself. Phil goes to a meeting and is surprised when Rainie walks in.
Kat's unsettled by a newspaper article about her, Alfie and Tommy. After Alfie teases her, Roxy makes the first move with Michael and they get back together. Michael persuades Roxy to go to the Vic; the atmosphere's strained but Kat serves them. Elsewhere, a man reads the newspaper article…
Desperate to raise money for a holiday, Whitney and Lauren persuade Mr Lister to give them a stall, and Ryan to lend them the rent.
Last on
Credits
| Role | Contributor |
| --- | --- |
| Eddie Moon | David Essex |
| Alfie Moon | Shane Richie |
| Kat Moon | Jessie Wallace |
| Michael Moon | Steve John Shepherd |
| Roxy Mitchell | Rita Simons |
| Phil Mitchell | Steve McFadden |
| Rainie Cross | Tanya Franks |
| Shirley Carter | Linda Henry |
| Masood Ahmed | Nitin Ganatra |
| Zainab Masood | Nina Wadia |
| Dr Yusef Khan | Ace Bhatti |
| Denise Fox | Diane Parish |
| Tamwar Masood | Himesh Patel |
| Afia Masood | Meryl Fernandes |
| Whitney Dean | Shona McGarty |
| Lauren Branning | Jacqueline Jossa |
| Ryan Malloy | Neil McDermott |
| Ricky Butcher | Sid Owen |
| Kim Fox | Tameka Empson |
| Mr Lister | Nick Wilton |
| Gavin | Bob Goody |
| Executive Producer | Bryan Kirkwood |
| Director | Clive Arnold |
| Writer | Jane Marlow |