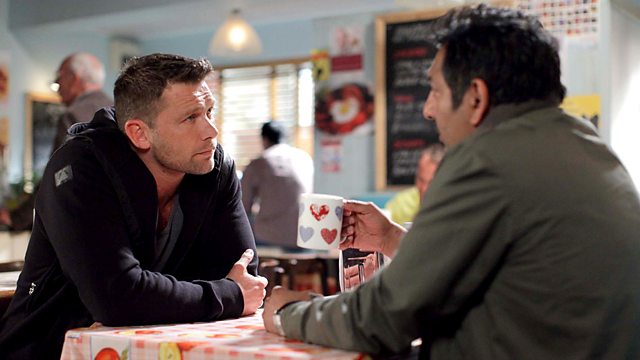 31/05/2011
Masood's furious when Christian mentions he and Syed are considering starting a family. Sure she already knows their plans, Masood confronts Zainab about it. Zainab's shocked by the news, and when Yusef tries to give his opinion tells him to stay out of her life. Zainab makes it clear to Syed she could never be part of the adoption. Masood's convinced that Yusef's turning Zainab's head and has slept with her and, throughout the day, Yusef deliberately fuels his suspicions. Eventually, Masood follows Yusef into the deserted Arches and picks up a metal bar. Yusef's relieved when Phil walks in, but it quickly becomes clear Phil's on Masood's side and angry with Yusef for preventing him going to Dubai. Yusef admits he didn't sleep with Zainab. Phil forcefully tells Yusef to get into the boot of his car.
Afia acquires a moped to start a delivery service for the Argee Bhajee.
Phil's upset when he finds a postcard Ben's sent to Shirley and addressed only to her. He's short tempered all day, annoyed by Yusef, and Ricky and Jay's silly mistakes in the Arches.
Mercy's still awkward around Fatboy. She manages to get her hearing moved so she can sit her exams. Ashley returns to the Square, apparently sober and keen for Fatboy to move in with him. Despite, Fatboy's best efforts to keep it secret, Ashley finds out Fatboy and Mercy are married. Furious, Ashley reveals to Mercy he was the one who called immigration.
Ricky needs to raise £200 for Liam's school trip. He asks Jay to babysit so he can do some overtime, Jay tells him about the Dubai job.
Discovering that Fatboy is training in the hope of becoming an Olympic torch bearer, Billy decides to do the same and asks Julie to nominate him.
Last on
Credits
| Role | Contributor |
| --- | --- |
| Dr Yusef Khan | Ace Bhatti |
| Masood Ahmed | Nitin Ganatra |
| Phil Mitchell | Steve McFadden |
| Zainab Masood | Nina Wadia |
| Syed Masood | Marc Elliott |
| Christian Clarke | John Partridge |
| Tamwar Masood | Himesh Patel |
| Afia Masood | Meryl Fernandes |
| Shirley Carter | Linda Henry |
| Jay Mitchell | Jamie Borthwick |
| Billy Mitchell | Perry Fenwick |
| Ricky Butcher | Sid Owen |
| Arthur 'Fat Boy' Chubb | Ricky Norwood |
| Mercy Olubunmi | Bunmi Mojekwu |
| Ashley Chubb | Colin Mace |
| Ryan Malloy | Neil McDermott |
| Julie Perkins | Cathy Murphy |
| Executive Producer | Bryan Kirkwood |
| Director | Clive Arnold |
| Writer | Paul Mari |