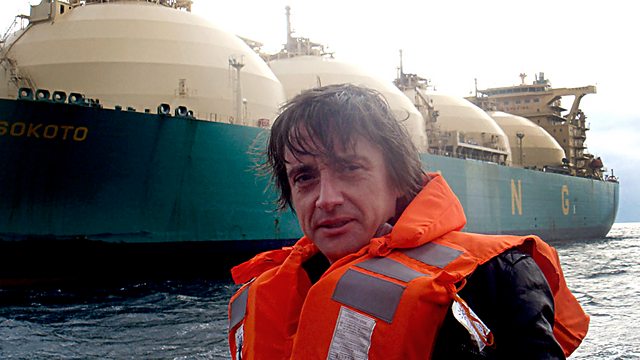 Richard Hammond reveals the ingenious engineering required to transport one of the most potentially hazardous cargoes in the world in some of the biggest vessels afloat. The huge ships, bigger than the Titanic, carry enough fuel to heat a city the size of London for a week - the energy equivalent of 55 Hiroshima atom bombs. Shipping this potentially volatile cargo required engineering solutions inspired by cutlery, mid-air refuelling and fire engines.
Though the cargo is safe as a liquid at -162C, any trace of gas could be dangerously flammable, so potentially hazardous areas around the cargo are kept safely inert. Thanks to mid-air refuelling - first introduced in 1938 to permit mail planes to cross the Atlantic - which uses inert nitrogen, the tankers never fear any gas explosion. At 'cryogenic' temperatures, ordinarily strong materials start to fail. The same material that makes reliable scaffold poles shatters when chilled -190C. The solution lies in the stainless steel used in cutlery.
Liquid cargoes can slosh around and capsize a vessel. In 1987 the so-called 'free surface effect' sank the ferry Herald of Free Enterprise after it took on water. Richard demonstrates the problem in a specially adapted van, fitted with a large tank of water which causes the vehicle to topple over. LNG tankers stop sloshing with specially shaped tanks.
These high-tech vessels rely on an ancient technology for power - steam. Richard demonstrates its power with a purpose-built 'steam bomb' that destroys a wooden shed. LNG tankers also use steam to produce fresh water for drinking, relying on one of naturalist Charles Darwin's lesser known discoveries; how reduced atmospheric pressure lowers the boiling point of water.
Last on
Credits
| Role | Contributor |
| --- | --- |
| Presenter | Richard Hammond |
| Presenter | Richard Hammond |
| Production Secretary | Nicola Rowe |
| Producer | Lynsey Neale |
| Assistant Producer | Ronan Browne |
| Producer | Jamie Crawford |
| Producer | Jamie Crawford |