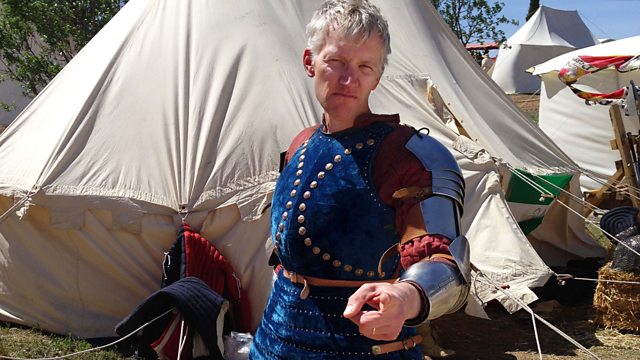 10/05/2011
Listen in pop-out player
Tom Holland and the team explore recent historical research and follow up listeners' questions and comments.
8,000 years ago a day trip to the Isle of Wight would have been a healthy walk from Lymington to Yarmouth. Today's ferry journey takes passengers over a submerged landscape, flooded by a steady inundation as the ice sheets retreated. Incredibly, marine archaeologists working off the coast of the Isle of Wight have found pieces of wood that were worked by the people who lived in this landscape. Tom Holland takes the ferry to find out more about one of Europe's most important Mesolithic sites.
Following on from last week's assertion by Professor Tom Williamson that lines of Scots Pines in the sandy East Anglian 'Brecks' could be remnants of hedges planted to prevent soil erosion, David Harvey at the University of Exeter discusses similar landscape features in West Country.
He played host to the King but helped a servant ride for the Parliamentarians, how did Thomas Appletree survive the English Civil War? Making History listener Anne Heyman is an ancestor of Appletree and she went to Deddington in Oxfordshire to discover just how families managed to negotiate the politics that split a nation.
Who were the Gepids? A listener's question takes us to Central and Eastern Europe in the third century AD and a race of people who fail to make much of a mark on history because they were at arms' length from Rome.
Producer: Nick Patrick
A Pier Production for BBC Radio 4.
Last on