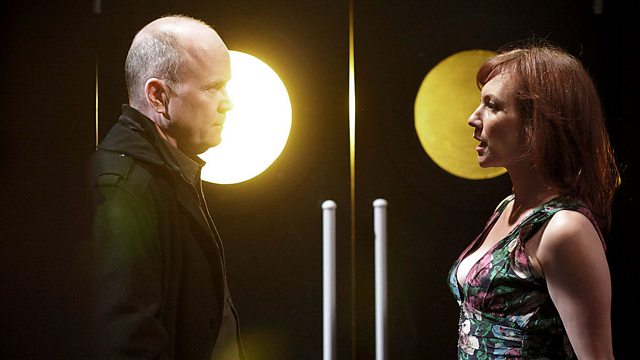 06/05/2011
Max checks Tanya's flights online. Abi tells him Tanya's moved on, so should he. Vanessa gets roped into helping out at the Vic and impresses Alfie. Max is surprised to find Vanessa behind the bar. Vanessa's glad to have finally got a reaction from Max, he's been distracted and distant. They go out for dinner and then on to R&R. Later, as they kiss in the Square, Max sees Tanya getting out of a taxi. Their eyes meet…
Ian divides everything in the sitting room in two with tape. He and Jane are coldly polite to each other in front of Bobby. Ian cancels Jane's bank card, then fires her from the café when she takes cash from the till. In retaliation, Jane sells Ian's possessions and changes the locks.
Max and Jack are roped in to paint the middle room at Dot's. Jack quickly gets fed up with Dot fussing over him and storms out. He gets drunk at the Vic, then goes to R&R. At the club, Rainie tries to talk to Phil but he rejects her. Rainie and Jack start drinking shots and dancing. Max tries to separate them, Jack leaves and Rainie follows. Outside, they kiss passionately.
Dot finds fault with all the carers she and Carol interview. Carol and Dot argue and Dot eventually admits she can't look after herself. Dot finally finds a carer she likes, Marta, and offers her the job.
Julie's nervous, she's meeting Billy's son William for the first time. Realising that Kat's too scared to take Tommy out on her own, Julie persuades her to come to the park claiming she needs moral support. By the time Julie and Billy are ready to take William home, Kat's feeling confident enough to stay in the park with Tommy.
Last on
Credits
| Role | Contributor |
| --- | --- |
| Jack Branning | Scott Maslen |
| Rainie Cross | Tanya Franks |
| Max Branning | Jake Wood |
| Vanessa Gold | Zoe Lucker |
| Carol Jackson | Lindsey Coulson |
| Dot Branning | June Brown |
| Ian Beale | Adam Woodyatt |
| Jane Beale | Laurie Brett |
| Alfie Moon | Shane Richie |
| Kat Moon | Jessie Wallace |
| Julie Perkins | Cathy Murphy |
| Billy Mitchell | Perry Fenwick |
| Phil Mitchell | Steve McFadden |
| Jodie Gold | Kylie Babbington |
| Arthur 'Fat Boy' Chubb | Ricky Norwood |
| Tanya Jessop | Jo Joyner |
| Greg Jessop | Stefan Booth |
| Abi Branning | Lorna Fitzgerald |
| Bobby Beale | Alex Francis |
| Tiffany Butcher | Magdalena Kurek |
| Executive Producer | Bryan Kirkwood |
| Director | Steve Finn |
| Writer | Richard Lazarus |