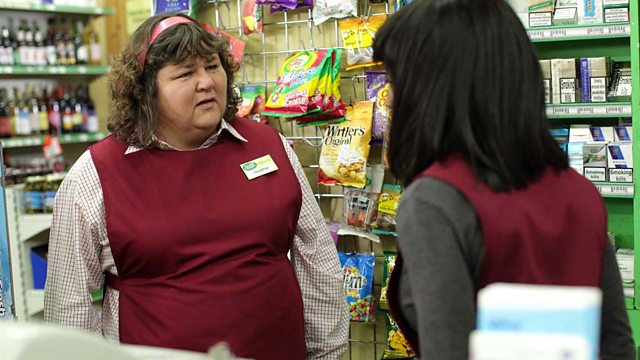 05/05/2011
Ian shows off his new 'girlfriend' Jeanette. Jean's jealous. Pat thinks Ian's playing games but Ian insists he's known Jeanette for years. Jeanette later tells Jean she met Ian through a dating website. Jean and Pat tell Jane what they've heard and realise the stories don't match up. Jane buys Jeanette a drink. Ian finds the two women together, Jane advises him to get his story straight next time he wants to pass off an escort as his girlfriend. Later, Ian infuriates Jane buy calling her a prostitute parading as a wife, then telling her to get out. Jane insists she's not going that easily or cheaply, she won't settle for half of everything, she's taking the lot.
Heather's grief stricken after the 'death' of Kevin68. She loses her job at the Minute Mart after slapping Denise, when Denise insists she's been though a lot worse.
Mo invites Edward, Dot, Pat and Lydia to her film club at the Vic. Mo tries to charge an entry fee, but Lydia insists they'll only come in if it's free. Dot offers to help track down Edward's old friend Betty online.
Jack's a mess, he isn't interested in talking about Ronnie and hands Roxy his wedding ring. Michael tries to talk to Jack at the boxing gym. Drunk, Jack turns on Michael - he's not bothering with his son. Michael doesn't react, so Jack smashes a window pane and walks away.
Janine's not happy when Lydia reveals she's sold her house and is moving in permanently. Lydia takes down Janine's picture of Frank and puts out a framed photo of Janine's mother, June, instead. Lydia tries to talk to Janine about June, insisting she adored Janine. Later, Janine puts Frank's picture back up but leaves June's on display.
Last on
Credits
| Role | Contributor |
| --- | --- |
| Ian Beale | Adam Woodyatt |
| Jane Beale | Laurie Brett |
| Janine Malloy | Charlie Brooks |
| Lydia Simmonds | Heather Chasen |
| Pat Evans | Pam St Clement |
| Ricky Butcher | Sid Owen |
| Mo Harris | Laila Morse |
| Jean Slater | Gillian Wright |
| Dot Branning | June Brown |
| Edward Bishop | Frank Barrie |
| Heather Trott | Cheryl Fergison |
| Ben Mitchell | Joshua Pascoe |
| Denise Fox | Diane Parish |
| Jack Branning | Scott Maslen |
| Michael Moon | Steve John Shepherd |
| Roxy Mitchell | Rita Simons |
| Christian Clarke | John Partridge |
| Executive Producer | Bryan Kirkwood |
| Writer | Richard Lazarus |