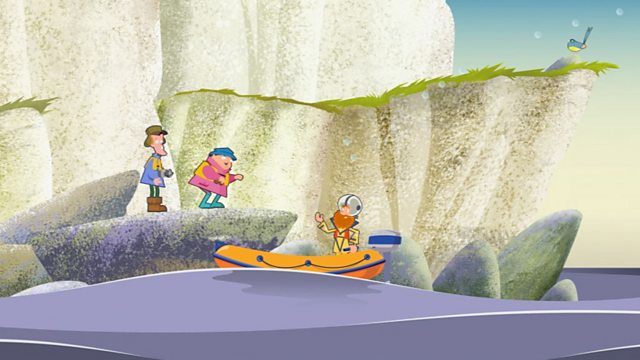 Tha am bàta-teasairginn dàna, Lucas, deònach gabhail ri dùbhlan sam bith. Fhad 's a tha Lucas 's an sgiobair aice, Alasdair, trang a' dìon nan cuantan, tha muinntir a bhaile iad fhèin trang - le spòrs 's mire gu leòr. Tha an cù beag aig Siusaidh a' cuir cuisean bun os cionn 's e dol às dèidh caoraich Ciobair MhicGhriogair. Tha cleasan nam beathaichean ag adhbharachadh buaireadh uabhasach ge-tà 's feumaidh Lucas a h-uile duine a tha air am fàgail air bàrr nan sgeirean fhaighinn gu sàbhailteachd... air dhòigh sam bith!
For the daring and brave young lifeboat Lucas, there's no job too daunting. While Lucas and coxswain Alasdair are busy protecting the seas, the other residents of the town find plenty of their own adventures.
Siusaidh's dog causes all sort of trouble as he chases the farmer's sheep. The antics of all the animals leads to a huge rescue operation as Lucas saves all those who are left high and dry on the cliff ledge.
Last on