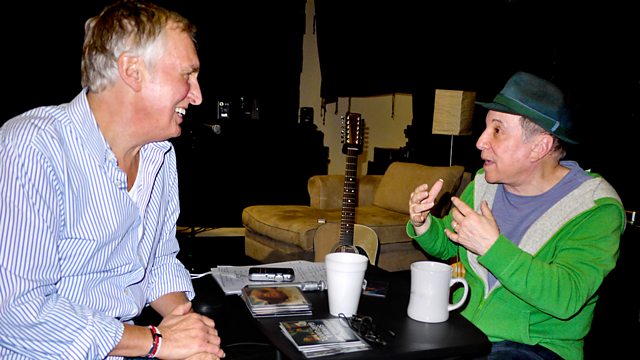 Paul Simon: You Can Call Me Paul
Paul Simon talks to Johnnie Walker about his long career in music. This interview first broadcast in May 2011 and is repeated in the same month he releases his 70th Birthday Collection.
It's been over 50 years since Paul Simon and Art Garfunkel first troubled the charts with their pop hit Hey Schoolgirl, which was released under the moniker Tom & Jerry. Johnnie finds out how, at nearly 16 years old, Paul Simon found himself performing for Dick Clark on the hit TV show American Bandstand. The singer-songwriter went on to pen pop standards like Bridge Over Troubled Water, Mrs Robinson and You Can Call Me Al, and he was selected by Time Magazine as one of the "100 People Who Shaped The World".
Simon talks openly about his relationship with his father, his time UK during the 60s, his work with Art Garfunkel and immense solo success and, and the writing of his new album So Beautiful Or So What.
The pair bond over the importance of family and Paul's long-lasting love affair with rhythm and song-writing, during an interview which was recorded in Norwalk Connecticut during rehearsals for Paul's 2011 tour.
Last on