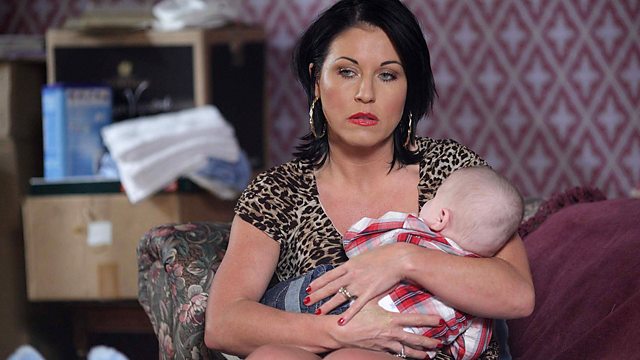 28/04/2011
Masood's angry when he discovers a cheque from Yusef for £10,000, and insists that he'll get the money somehow. Syed urges Zainab to give Masood a chance. Against her better judgement, Zainab rips up the cheque. Masood convinces Jane to place bets for him at the Bookies, and is delighted when they win £8000; nearly enough to cover their debt. Convinced he can win the rest of the money, Masood's tempted back into the Bookies. Later, he arrives home to an expectant Zainab, utterly devastated; he's lost it all.
Alfie and Mo plan to spend the pub quiz winnings on a Christening for Tommy. Kat's angry when she discovers the plan, and thinks the name 'Tommy' has only ever brought them bad luck. Kat tells Alfie he can have the Christening, but she's picking a new name for Tommy. She changes her mind when Jack visits her, wanting to change the name on the baby's headstone from 'Tommy' to 'James'. She agrees with Alfie; Tommy did find his way home after all.
Grace arrives back on the square. Fat Boy's annoyed when Mercy gushes to her about Seb, but later comforts a distraught Mercy when Seb breaks up with her. Preoccupied with Mercy, Fat Boy doesn't notice an officer from Immigration services until it's too late. The officer interviews Mercy; her visa's expired and she has to return to Nigeria.
Jack confesses to Vanessa that he wants to change the name on James' headstone, but can't bring himself to make the call. Sympathising, Vanessa does it for him. Jack's relieved when Kat agrees to change the name on the headstone.
Jane's delighted that Martin, the man from the pub quiz, wants to see her again.
Christian discovers Syed is speaking to Zainab again, and worries that things will end badly for him.
Last on
Credits
| Role | Contributor |
| --- | --- |
| Masood Ahmed | Nitin Ganatra |
| Zainab Masood | Nina Wadia |
| Alfie Moon | Shane Richie |
| Kat Moon | Jessie Wallace |
| Jack Branning | Scott Maslen |
| Mo Harris | Laila Morse |
| Jane Beale | Laurie Brett |
| Christian Clarke | John Partridge |
| Syed Masood | Marc Elliott |
| Arthur 'Fat Boy' Chubb | Ricky Norwood |
| Mercy Olubunmi | Bunmi Mojekwu |
| Grace Olubunmi | Ellen Thomas |
| Max Branning | Jake Wood |
| Vanessa Gold | Zoe Lucker |
| Daniel Mansard | Richard Galazka |
| Executive Producer | Bryan Kirkwood |
| Director | Jerry Smith |
| Writer | Jeff Povey |