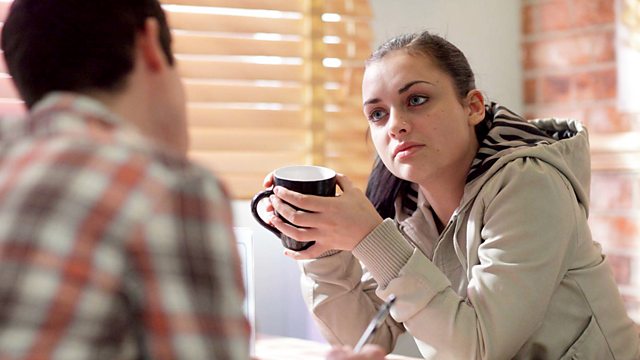 21/04/2011
Alfie's thrilled, the Vic's won the cocktail competition. Charlie persuades Kat to take Tommy to the park. They talk, resolving some of their past issues. Kat asks Charlie to move into the Vic, but he reveals he's getting married again. Later, Alfie finds Kat sitting alone and upset. She admits she can't forget what happened. Alfie assures her they'll get through it together. He hugs her tightly.
With Dot's support, Jack asks Alfie if he can replace James' headstone - at the moment there's nothing to mark that he ever lived. Alfie agrees, but asks Jack to wait until he's spoken to Kat.
Ricky and Carol try to encourage Whitney to do something. Max's furious, having seen Whitney's interview about Ronnie in the Gazette. Ian withdraws his offer of a job at the café for Whitney. Mr Lister's kind to Whitney and buys her a drink. She asks if she can have her stall back. Janine presumes Lister is coming on to Whitney and gives him a piece of her mind, Ricky arrives and does the same. Later, Ricky finds Whitney at Dot's. She's hostile and reminds him he's not her dad. Fed up, Ricky insists he's glad. He leaves and Whitney starts to cry.
Janine's intrigued when Lydia receives a letter from a wealth management company. Lydia sees avarice in Janine's eyes and tells Billy that Janine wants her dead, but will have a long wait.
Annoyed when Fat Boy insists he's staying in Walford with Mercy rather than moving in with him, Ashley reports Mercy for overstaying her visa.
Rainie gets the keys for No.27 from Abi. Phil tells Rainie to keep away from him. Max confronts Rainie, she insists Tanya's fine with her being at the house and invites Max to phone her and check.
Last on
Credits
| Role | Contributor |
| --- | --- |
| Whitney Dean | Shona McGarty |
| Ricky Butcher | Sid Owen |
| Dot Branning | June Brown |
| Jack Branning | Scott Maslen |
| Max Branning | Jake Wood |
| Abi Branning | Lorna Fitzgerald |
| Rainie Cross | Tanya Franks |
| Phil Mitchell | Steve McFadden |
| Alfie Moon | Shane Richie |
| Kat Moon | Jessie Wallace |
| Charlie Slater | Derek Martin |
| Michael Moon | Steve John Shepherd |
| Roxy Mitchell | Rita Simons |
| Billy Mitchell | Perry Fenwick |
| Janine Malloy | Charlie Brooks |
| Lydia Simmonds | Margaret Tyzack |
| Ashley Chubb | Colin Mace |
| Mercy Olubunmi | Bunmi Mojekwu |
| Arthur 'Fat Boy' Chubb | Ricky Norwood |
| Carol Jackson | Lindsey Coulson |
| Executive Producer | Bryan Kirkwood |
| Director | John Greening |
| Writer | Christopher Reason |
| Ian Beale | Adam Woodyatt |
| Heather Trott | Cheryl Fergison |
| Mr Lister | Nick Wilton |