Add music you love and enjoy it with
Actor Christopher Eccleston and writer/director Hugo Blick talk about their new TV crime drama.

Larushka Ivan-Zadeh reviews a new comedy film about a young insurance salesman who leaves his small town to attend his very first major business convention.

Mark Lawson reports on the reopening of the Lyric Theatre in Belfast. Architect John Tuomey gives a tour of the building and we hear memories of the old Lyric from playwright Martin Lynch.
The Shadow Line

The Shadow Line starts 5th May 9pm on BBC2.

The Shadow Line

Lyric Theatre, Belfast

The Lyric opens on May 1st with Conall Morrison's production of The Crucible.
Martin Lynch's production of The Dockers begins on June 11th.

Lyric Theatre website

Cedar Rapids

Starring Ed Helms and directed by Miguel Arteta, Cedar Rapids is out 29th April.
Front Row's Cultural Exchange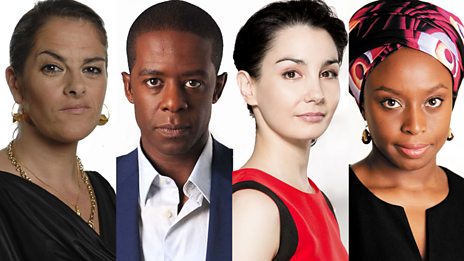 Seventy-five leading creative minds choose a favourite cultural work.