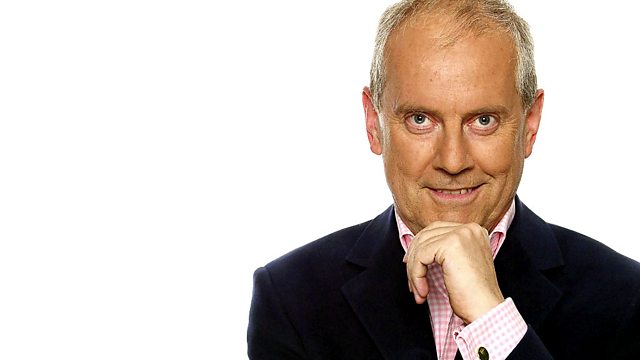 23/04/2011
Clive Anderson and guests with an eclectic mix of conversation, music and comedy.
Clive is joined by the entertainer, raconteur and former politician Gyles Brandreth. His one man comedy show covers all aspects from his life and was a sell out success at the Edinburgh Festival last year. London folk get a chance to see him and The One to One Show at The Riverside Studios in Hammersmith in May.
Paul Merson was a hugely successful football player for Arsenal and England. Now he's written his memoir 'How Not to Be a Professional Footballer'. Top tips on what NOT to do include: not getting drunk enough to forget the 90 minutes of football you've just played, not to share a house with Gazza and not to place £30,000 bets at the bookies. Paul is now a panellist on SkySports' weekend football results show, Soccer Sunday.
Following a BBC television adaptation starring Billie Piper, the author of A Passionate Woman, Kay Mellor talks to Clive about the confession of an affair made to her by her mother. Kay takes on the emotional role of playing her mother Betty on stage in Ipswich and Oldham over the next couple of months.
Arthur Smith tries a spot of Sign Spinning under the tutelage of 'spinstructor' Max Durovic. It's America's fastest growing form of outdoor advertising - a mix of break dancing and acrobatic performance whilst waving a six foot advertising board around your body!
There's music from London based six-piece skiffle group, The Severed Limb. Drawn together from a love of rockabilly, folk and the King of Skiffle Lonnie Donegan, they perform their single Woo Eee Ha Ha!
Having toured with the likes of Laura Marling and Mumford and Sons, folk popstress Alessi's Ark makes a welcome return to Loose Ends, performing The Wire from her new album, Time Travel.
Producer: Cathie Mahoney.
Last on
Listen to Loose Ends anytime, anywhere.