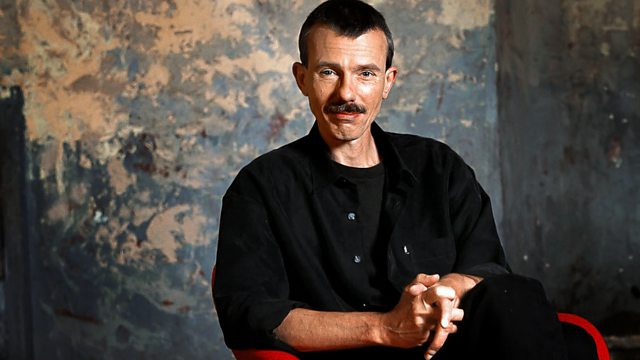 28/04/2011
Jonathan Swain introduces a selection of piano music played by Spanish pianist José Enrique Bagaria, Haydn, Chopin, Albeniz and Schumann.
1:01 AM
Haydn, (Franz) Joseph [1732-1809]
Sonata for piano (H.16.50) in C major;
José Enrique Bagaria (piano)
1:14 AM
Chopin, Fryderyk [1810-1849]
Barcarolle for piano (Op.60) in F sharp major
José Enrique Bagaria (piano)
1:23 AM
Albeniz, Isaac [1860-1909]
Iberia, Book 1 - 1. El Puerto; 2. Corpus Christi en Sevilla
José Enrique Bagaria (piano)
1:35 AM
Debussy, Claude [1862-1918]
Preludes L.123 Book 2; V. Bruyères; Vll. Ondine (Scherzando)
José Enrique Bagaria (piano)
1:42 AM
Schumann, Robert [(1810-1856)]
Sonata for piano no. 2 (Op.22) in G minor;
José Enrique Bagaria (piano)
1:59 AM
De Falla, Manuel [(1876-1949)]
Nocturne (1899)
José Enrique Bagaria (piano)
2:04 AM
Suk, Josef (1874-1935)
Mass in B flat major, 'Krecovicka'
Marie Matejkova (soprano), Ilona Satylova (alto), Jiri Vinklarek (tenor), Michael Mergl (bass), Miluska Kvechova (organ), Czech Radio Choir, Pilzen Radio Orchestra, Stanislaw Begunia (conductor)
2:29 AM
Mendelssohn, Felix (1809-1847)
Quartet for strings No.2 (Op.13) in A minor
Biava Quartet
3:01 AM
Sweelinck, Jan Pieterszoon (1562-1621)
Fantasia in G minor (g1)
Leo van Doeselaar (Van Hagerbeer organ (1643)
3:12 AM
Sibelius, Jean (1865-1957)
Symphony no.1 (Op.39) in E minor
Rotterdam Philharmonic Orchestra, Valery Gergiev (conductor)
3:50 AM
Fauré, Gabriel (1845-1924)
Nocturne for piano No.1 in E flat minor (Op.33 No.1)
Livia Rev (piano)
3:58 AM
Vivaldi, Antonio (1678-1741)
Concerto for 2 cellos and orchestra in G minor (RV.531)
Maris Villeruss and Leons Veldre (cellos), Peteris Plakidis (harpsichord), Latvian Philharmony Chamber Orchestra, Tovijs Lifsics (conductor)
4:11 AM
Glazunov, Alexander Konstantinovich (1865-1936)
Elegie in D flat major (Op.17) arranged for horn and piano
Mindaugas Gecevicius (horn), Ala Bendoraitiene (piano)
4:19 AM
Haydn, Joseph (1732-1809)
Symphony No.22 in E flat, 'The Philosopher'
Amsterdam Bach Soloists
4:35 AM
Abel, Carl Friedrich (1723-1787)
Sonata No.6 in G major for transverse flute and harpsichord (Op.6 No.6)
Karl Kaiser (transverse flute), Susanne Kaiser (harpsichord)
4:45 AM
Rore, Cipriano de (c1515-1565)
Fera gentil'
The Consort of Musicke, Anthony Rooley (director)
4:51 AM
Berlioz, Hector (1803-1869)
Le Carnaval romain - overture (Op.9)
Orchestra di Roma della RAI, Leonard Bernstein (conductor)
5:01 AM
Chopin, Frédéric (1810-1849)
Variations Brillantes in B flat major, on a theme from Hérold's 'Ludovic'
Ludmil Angelov (piano)
5:08 AM
Mozart, Wolfgang Amadeus (1756-1791)
Symphony No.16 in C major (K.128)
The Amadeus Polish Radio Chamber Orchestra in Poznan, Agnieszka Duczmal (conductor)
5:21 AM
Vivaldi, Antonio (1678-1741)
Nulla in mundo pax sincera for soprano and orchestra (RV.630)
Marita Kvarving Sølberg (soprano), Norwegian Radio Orchestra, Ketil Haugsand (conductor)
5:29 AM
Tchaikovsky, Peter Ilyich (1840-1893)
Wojewode, symphonic ballad, (Op 78)
Oslo Philharmonic Orchestra, Jukka-Pekka Saraste (conductor)
5:41 AM
Lipinski, Karol Józef (1790-1861)
Variations on a theme of Rossini's 'La Cenerentola'
Miroslaw Lawrynowicz (violin), Krystyna Makowska-Lawrynowicz (piano)
5:57 AM
Tallis, Thomas (c.1505-1585)
Spem in Alium, for 40 voices
BBC Singers, Stephen Cleobury (conductor)
6:05 AM
Ravel, Maurice (1875-1937)
La valse
BBC National Orchestra of Wales, Jac van Steen (conductor)
6:18 AM
Sor, Fernando (1778-1839)
Introduction and variations on Mozart's 'O cara armonia' for guitar (Op.9)
Ana Vidovic (guitar)
6:27 AM
Bach, Johann Sebastian (1685-1750)
Concerto for 2 violins and string orchestra in D minor (BWV.1043)
Sigiswald Kuijken (violin and conductor), Lucy van Dael (2nd violin solo), La Petite Bande
6:44 AM
Gershwin, George (1898-1937)
Three Preludes arr. for two pianos
Aglika Genova & Luben Dimitrov (pianos)
6:50 AM
Brahms, Johannes (1833-1897)
Theme with variations from Sextet in B flat major (Op.18)
Wiener Streichsextet.
Last on