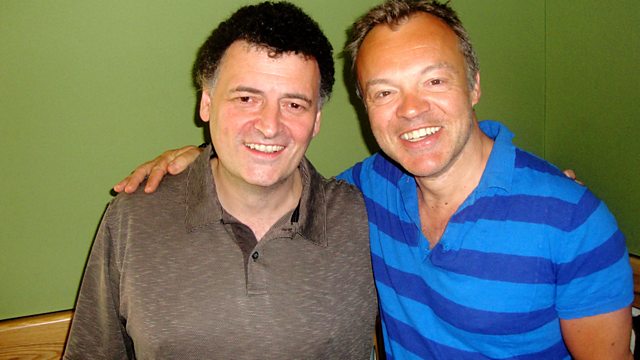 Steven Moffat and Hurts - Doctor Who Head Honcho and Pop Duo
As well as being St George's Day, it was also designated 'Doctor Who Day', and the show's writer and executive producer Steven Moffat joined Graham in the studio to discuss the new series starring Matt Smith, as well as answering as many listener questions as he could.
After 12, pop duo Hurts, that's Theo Hutchcraft and Adam Anderson, told Graham about the success they've had since the release of their debut album 'Happiness'. And we were treated to a special live performance of their new single 'Illuminated', recorded at a recent concert in St Petersburg.
In this week's 'Grill Graham', Mr Norton and a jet-lagged Maria McErlane gave advice to Jane in Lancashire whose new American neighbours have invited her around for dinner. This in itself is not a problem, however, the aforementioned new neighbours have an untrained labradoodle, which Jane is not a fan of and wasn't sure how to tackle this potentially awkward situation. And then there was Sean in Telford who, after cheating on his girlfriend, wasn't sure whether honesty was indeed the best policy? Should he confess or not? That was the question.
Jive Bunny's 'That's What I Like' was the latest 'I Can't Believe It's Not Better'. It was chosen by someone in Preston who didn't want to reveal their name, however as it turned out the majority of the email and text response loved Jive Bunny. So ANON in Preston, it's okay to be a fan of Jive Bunny! And Anne Nicholson chose Kevin Johnson's 1975 hit 'Rock 'n' Roll (I Gave You the Best Years of My Life)', in 'Tune with a Tale'.
With Bobbie on holiday, Nick Duncalf was in charge of all things traffic, and Alistair Bruce Ball was at home filling a paddling pool, but found time to give us the latest sports news.
Last on