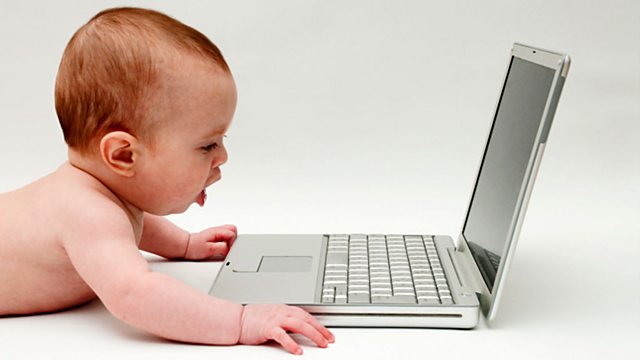 London's East End Baby Language Lab
Listen in pop-out player
Presenter Claudia Hammond starts a new series of All in the Mind by joining mothers and babies at a travelling, high-tech language lab in a Children's Centre in London's East End.
The testing session is just one of many to be carried out over the next two years in the communities of two of London's most deprived boroughs, Tower Hamlets and Newham.
Parents and babies are being invited to participate in a novel psychological study to investigate whether researchers can pick up very early indicators of later language or attention problems in infants as young as 6 months. The babies will be retested and assessed again when they are two years old.
The travelling 'babylab' is a high tech computer screen, set up in local children's centres. The baby sits in front of it and is played various videos and sounds aimed at testing how sensitive he or she is to speech and other aspects of their environments. The computer screen also contains a camera and eye movement tracker, so as well as testing the infants it also records all their responses to what they are seeing and hearing.
For example, at 6 months old, babies should be very interested in looking at faces and mouths when people are speaking, learning which mouth shapes match particular speech sounds. At this age they are likely to know the difference between the look of a mouth saying 'ba' as opposed to 'ga'. This is part of their earliest language development. If they are not able to make these and other discriminations, it could be a sign of language and other developmental problems to come.
This seems to be the case from studies of babies in formal university laboratories. But this new project aims to find out whether reliable predictors of language and learning difficulties can be picked up with testing equipment out in the real world. And in particular in communities at the lower end of the socio-economic scale. Children from this section of society are at greater risk of language and other developmental problems than children in better-off areas.
The community testing sessions are also aimed at increasing parents' understanding and appreciation of how their babies learn about language and the world around them, and demonstrating just how clever their infants are - even at 6 months.
The research project is run by the University of East London and Birkbeck College London. The psychologists hope their findings will in the future allow the identification of individual children with potential problems at the youngest age possible. The idea is that the earliest that weaknesses are identified, the greater the chance the children can be helped to catch up in the development of their communication and social skills.
Last on