Add music you love and enjoy it with
The Best Summer Ever (Various Artist, Virgin

Jimmy Soul

If You Wanna Be Happy

(CD Single), Epic

Boston

More Than A Feeling

Rock Of America (Various Artists), Trax Label

Emerald Rock (Various Artists), Polygram Tv

John Cougar

Jack And Diane

John Cougar - American Fool, Mercury

(CD Single), Cooking Vinyl, 1

Soul Years 1979 (Various Artists), Knight Records, 2

The Very Best Of Elvis Costello, Universal Music Tv

Rediscover The 60's - Sealed With A K, Old Gold

AC/DC

You Shook Me All Night Long

AC/DC - Back In Black, EMI

Disco Fever (Various Artists), Global Television

(CD Single), 157 Records, 1

Hits Of 1971 & 1972 (Various Artists), Polydor

Thin Lizzy

The Boys Are Back In Town

(Single), Vertigo, 10

The Buggles

Video Killed The Radio Star

Our Friends Electric (Various Artist, Telstar

The Lovin' Spoonful Collection, Castle Communications

Pratt & McClain

and

Brotherlove

Happy Days TV Theme

Television's Greatest Hits Volume 3 70s & 80s, Silva Screen Records Ltd

The Ultimate 80's Ballads (Various Artists), Polygram TV, 4

The Very Best Of Cat Stevens, Island
Pause For Thought

From Baroness Neuberger DBE, known to PFT as Rabbi Julia:

"We're in the middle of Passover right now, which celebrates the Exodus from Egypt and gives us a powerful message about the iniquity of slavery. We also eat nothing leavened - things that rise from yeast and fermentation - during the seven days of the festival, because the Israelites didn't have time to let their bread rise before they left Egypt in a hurry in the Exodus!!!!! Instead, our basic foodstuff is a kind of water biscuit called matzah, which the Passover service refers to as 'the bread of affliction'. Now, I happen to hate matzah. It is indigestible, it crumbles like crazy, and it's impossible to have breakfast in bed as you get itchy bits everywhere. But my mother adored it, and others I know love it too!

Meanwhile, Christians have been giving things up for Lent - there's a few days of overlap - whilst we're giving up bread. On Sunday Christians will have Easter eggs, whilst we had a roasted egg, a fertility symbol, on our Passover plate on Monday night. So what's with our food obsessions? Have we become the wrong sort of 'foodies', worrying about calories, fat and salt content for health reasons, but not thinking about food's significance? We watch cookery programmes endlessly, but are we really aware of our extraordinary good fortune in being able to eat whatever we want most of the time? Why are we not grateful for the ripening of the grain (matzah may originally have been made of unripe grain - definitely indigestible!)? I think we lack a sense of wonder at the miracle of food production, and its deliciousness. I'd like to use this Passover to think, not only about slavery, but also about how many people in our world don't get the chance to relish the delicious things of life, as we in the West can. That seems to be a good message from the indigestible food I'm eating all week!!!!"
BBC Playlister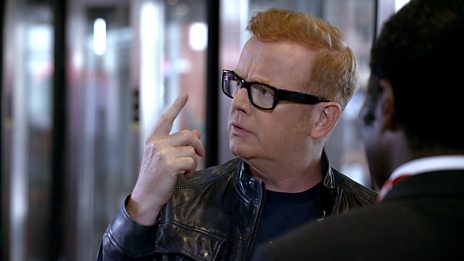 Chris has a song stuck in his head - but what is it? That's why he needs BBC Playlister!
500 WORDS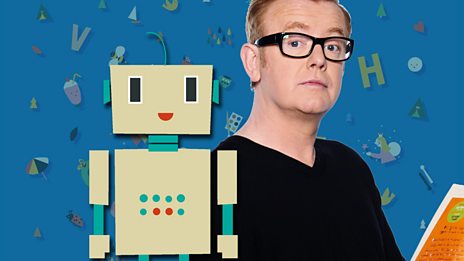 Featuring celebrity videos and top writing tips!
Podcast
Catch up with the latest Breakfast fun with Chris Evans. Hear the best stories and the biggest…