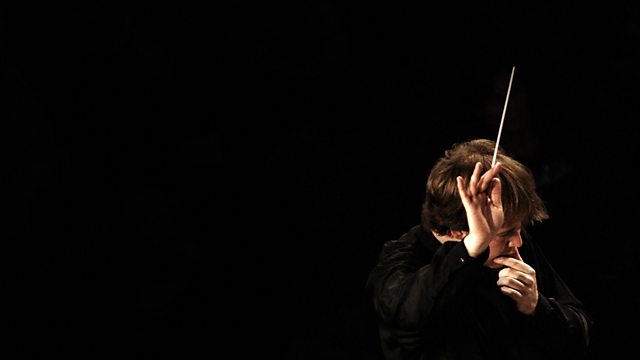 BBC Philharmonic - Tchaikovsky, Shostakovich, Mozart
Presented by Martin Handley
The BBC Philharmonic conducted by Giandrea Noseda performs Tchaikovsky and Mozart and they are joined by the Armenian violinist, Sergey Khachatryan for Shostakovich's 2nd Concerto.
That the young Armenian musician Sergey Khachatryan took up the violin was something of a happy accident: his parents and older sister all played the piano and another pianist would have been 'too much for one house'. Since then he has moved effortlessly from prodigy (the youngest-ever winner of the 2000 Sibelius Competition, aged just 15) to one of the outstanding artists of his generation, as anyone who has heard him will attest.
Shostakovich's haunting Second Concerto was an early 60th birthday present for the great Russian violinist David Oistrakh. It has the morbidity that suffuses other of his late works - the 14th Symphony, the last quartets, the Viola Sonata, combined with an intensity worthy of third-period Beethoven.
Before that, one of the most famous Shakespeare-inspired overtures of them all: Tchaikovsky's fantasy overture on Romeo and Juliet, and a miniature tone-poem in its own right. It is not plot that occupies him so much as an evocation of the characters involved, and their tense interrelationships. If the most obvious of these is the love theme, first introduced by cor anglais, there's the equally ear-catching depiction of Friar Lawrence at the opening and the swirling agitated theme of the two warring families. But perhaps the masterstroke is the way that Tchaikovsky relates the tragic narrative by combining and juxtaposing musical ideas, eventually subsuming them into the abrupt chords with which the overture ends.
Something very extraordinary happened when Mozart found himself in G minor - as his Second Piano Quartet and Third String Quintet show. And it was the key, too, of his 25th Symphony, one of the more profound utterances of the time. Yet his penultimate symphony is extraordinary even by Mozart's own standards, from the atmospherically quivering opening, via the wistful slow movement and a doleful menuet to a finale that seems at times to break free from all harmonic convention. Like all the greatest masterpieces, it's a work that continues to electrify and perplex in equal measure.
TCHAIKOVSKY Fantasy Overture, Romeo and Juliet
SHOSTAKOVICH Violin Concerto No.2
MOZART Symphony No.40
BBC Philharmonic
Gianandrea Noseda conductor
Sergey Khachatryan violin
Followed by highlights from the opening concert of the Arcomis International Flute Event 2011
Brett Dean: The Siduri Dances (world premiere)
Nielsen: Pan and Syrinx
Adam Walker (flute)
BBC National Orchestra of Wales
Thierry Fischer (conductor).
Last on