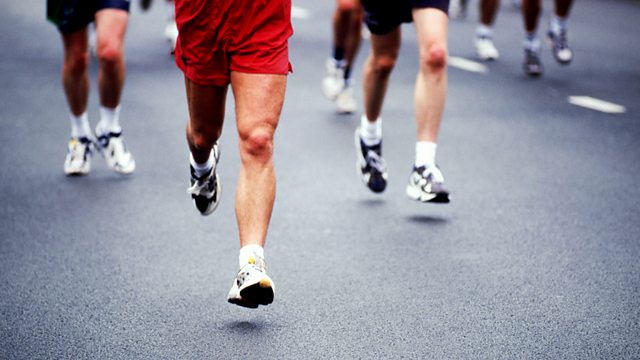 The Sub 2-Hour Marathon: Sport's Holy Grail
Sixty years ago, people said the four minute mile was impossible: in 1954 they all gasped in disbelief when Roger Bannister proved them wrong. They also said the 100 metres would never be run in under 10 seconds and shuddered again when Jim Hines did just that in 1968. Will the 2 hour marathon be the next great sporting barrier to be broken or will it remain beyond human endeavour? The question polarises opinion among athletes, sports scientists and commentators worldwide.
BBC reporter and marathon runner Chris Dennis will explore whether it's physically and mentally possible to run 26.2 miles in 120 minutes.
In the hills around Addis Ababa, the current world record holder Haile Gebrselassie tells him what it felt like to run the distance in 2 hours 3 minutes 59 seconds, how close to the limit he pushed his body, but why he is still convinced the two hour barrier will be broken in the next 20-30 years. Other elite athletes, including the women's marathon world record holder Paula Radcliffe and London marathon Race Director Dave Bedford also explain when and how they think it will happen.
The Olympic champion Sammy Wanjiru will argue that the sub 2-hour marathon is simply a pipedream, a landmark too far. The Secretary General of World Marathon Majors, Glenn Latimer, who has worked with many of the world's leading athletes for 30 years also has serious reservations.
Chris also heads to Loughborough to the English Institute of Sport to meet Dr Barry Fudge who gets him on the treadmill so he can experience first-hand what it feels like to run a mile in 4 minutes 35 seconds, the pace required for a sub 2 hour marathon.
Producer: Jo Meek
An All Out Production for BBC Radio 4.