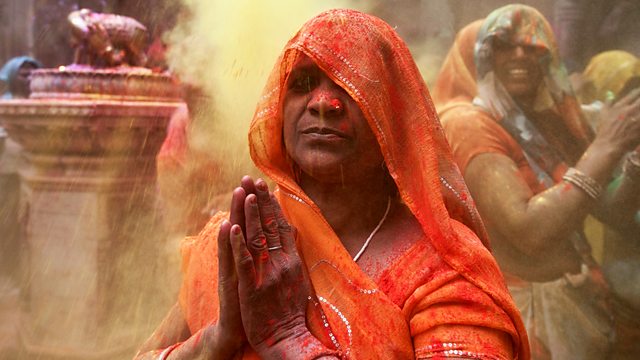 Colours of Religion
Mark Tully attends the Hindu festival of Holi in Delhi, gets covered with dye, and asks what is the significance of colour, in religion and in spring festivals.
Recorded partly on location in Mark Tully's home town of Delhi, this programme charts the run up to the festival, with the singing of traditional songs, and the lighting of bonfires. On the special day itself, coloured dyes and waters are thrown as the city erupts in an explosion of colour, noise and sometimes lusty humour. Speaking to locals and visitors alike, Tully gets a sense of the importance of colour to this festival, his city and to Hinduism. Looking to other traditions he asks what different colours mean to different faiths.
And as the rumbustiousness of Holi subsides, Tully is left to consider what parallels he can find in western festivals, music and writing, which might first appear more solemn, but can have their own undercurrents of bawdiness and abandon.
Presented by Mark Tully
Produced by Adam Fowler
An Unique production for BBC Radio 4.
Last on