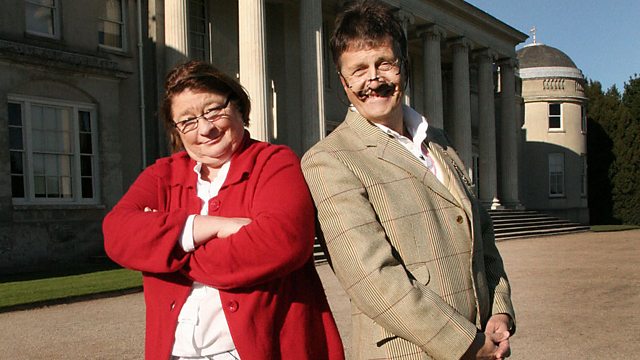 Antiques expert Tim Wonnacott and chef Rosemary Shrager travel in the footsteps of Queen Victoria, Britain's longest reigning monarch, looking at the houses, castles and stately homes she visited throughout her life. Using her own diaries and other first-hand accounts, they discover what happened during the visits.
Victoria and Albert visited Penrhyn Castle in Bangor, North Wales, in 1859 for three days. Victoria had been on the throne for 22 years at the time. The castle had only been completed in 1845, just 14 years before the queen's visit, and the whole place is built in a sham medieval style.
Historical food expert and chef Ivan Day helps Rosemary recreate an amazing feast: spit roast beef with an elaborate garnish of truffles and crayfish. It was created by one of Victoria's own chefs for grand occasions like this royal visit. In the process, Ivan and Rosemary rediscover the intricate art of spit roasting: a job so skilled that one person, the rotisserie chef, would have been focused on it.
Tim tells the story of how her majesty shunned the grand staircase to take her up to her bed and favoured the smaller, and much more convenient, spiral staircase used by the servants. She even used it in total darkness when the lamplighter they'd hired to light her way failed to turn up. It's reported that she groped her way up the stairs to her bedroom, laughing heartily. Tim discovers that the royal bed may not have been that comfortable when she got there: it was made from slate from the host family's quarry. Victoria comments in her diary how she was entertained by a male voice choir formed from the local quarrymen - and Tim and Rosemary are entertained by a choir containing some of the descendants of that choir.
Last on
Credits
| Role | Contributor |
| --- | --- |
| Presenter | Tim Wonnacott |
| Presenter | Tim Wonnacott |
| Presenter | Rosemary Shrager |
| Producer | Owen Rodd |
| Producer | Owen Rodd |
| Director | Owen Rodd |
| Director | Owen Rodd |
| Producer | Jules Whomsley |
| Director | Jules Whomsley |
| Participant | Ivan Day |