Add music you love and enjoy it with
JAZZ SHOWSTOPPER

OPTION A : George Benson – Breezin'
OPTION B : David A Stewart & Candy Dulfer – Lily Was Here
OPTION C : Sarah Vaughan - Cheek to Cheek
OPTION D : Louis Armstrong – Hello Dolly


Text the word 'JAZZ' plus your choice A, B, C or D – with NO GAPS - to 88291. Calls are charged at your standard message rate.

Confession: Darling, I'm Home...

Simon,

A few years ago, I was living with my boyfriend in a top-floor flat
which shared a small private landing with the flat opposite. Due to
the shape of the stairwell, the door was not visible from anywhere but
this landing. Neither we, nor the elderly chap opposite, ever really
had visitors.

At that time my boyfriend was working abroad for two weeks out of four and on this particular evening, as was his habit, he had phoned me from the airport to tell me that he would be home soon. As I had been busy with some flowerpots on the balcony, I was a bit grubby and so hopped in the shower, thinking I should have just about enough time before he got back.

I had just begun washing my hair when the doorbell went. It would not have been the first time that my boyfriend had forgotten to take his keys with him, so I hopped out of the shower and threw open the door, expecting to see my forgetful partner and give him a good-natured telling off. It was, as I'm sure you're expecting by now, not him. It was, in fact, given my state of undress, the most unsuitable visitor you could possibly imagine - an elderly Jehovah's Witness, Watchtower in hand, who greeted me with something along the lines of "Hello, have you thought about AAAARGH!" with an expression that indicated that he had probably never seen a naked woman before, and that he'd really rather never see one again.

He disappeared off down the stairs at quite a rate, and, part way
down, let out another horrified cry. I could hear a thumping from the
stairwell, and so assumed that this, now, would be my boyfriend,
lugging his suitcase and, possibly, wearing a rather tasteless
t-shirt which had cause futher offence to the beleagured religious chap. There didn't seem to be any point going back indoors for the
30 seconds it would take him to make it up the last flight of stairs, so I waited, still naked, dripping shampoo.

Unfortunately, the thumping noise wasn't my boyfriend either - it was the gentleman from the flat opposite, dragging a tartan shopping trolley with a missing wheel, and, to my surprise, revealing a side to him which I had previously not seen - wearing a green skirt-suit and a wig. I was so surprised by this - something I suppose explains the second shout from the stairs - that I didn't immediately close the door.

I have already been forgiven by my boyfriend for the rather frosty
reception he got when he finally did get home, having been stuck in
traffic for half an hour, so I would like to seek forgiveness not so
much from the Jehovah's Witness, because as my Gran used to say "If you can see more than God made, throw your hat at it", but from the chap from the flat opposite, who was probably rather embarrassed by my suggesting that if he was going to wear sheer tights, he really ought to shave his legs.

Karen.
Watch Simon's Edinburgh Book Club Special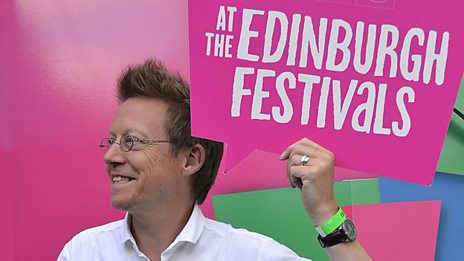 See Simon host a special Radio 2 Book Club live at Potterrow.
Podcasts
Simon Mayo considers listeners' darkest secrets and worst misdemeanours, as they beg for his…

The best bits of Simon Mayo Drivetime on BBC Radio 2, with star guests, audience interactivity,…