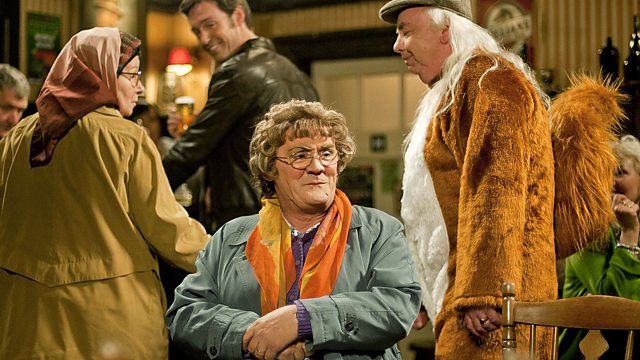 Agnes Brown thinks everyone has gone mad. Father Quinn is losing his faith as fast as he loses parishioners. Newlyweds Dermot and Maria will not stop fighting. And Grandad has decided that he would like to witness his own funeral. He is keen to hear all the nice things people will say about him at his funeral while he is still alive to enjoy them.
Maria tells Mrs Brown why she and Dermot have been arguing so much. She thinks that they should move out of the Brown household, but Dermot is resisting. He is also scheming with Buster to make some quick cash so that he can afford a first home for him and Maria.
The Browns decide to make Grandad happy by faking his funeral, but their plans start to go awry when Mrs Brown mistakes two Mormons for the men who are supposed to be delivering Grandad's coffin. In the event, Grandad is horrified to find that no-one has a kind word to say about him after all, and the mourners get a shock when the corpse comes back to life. Only a quick-thinking Mrs Brown can save the day.
Last on
More episodes
Next
You are at the last episode
Credits
| Role | Contributor |
| --- | --- |
| Agnes Brown | Brendan O'Carroll |
| Grandad Brown | Dermot O'Neill |
| Father Quinn | Gary Lilburn |
| Cathy Brown | Jennifer Gibney |
| Maria Brown | Fiona O'Carroll |
| Dermot Brown | Paddy Houlihan |
| Winnie McGoogan | Eilish O'Carroll |
| Buster Brady | Danny O'Carroll |
| Mick | Mark Dymond |
| Mark Brown | Pat 'Pepsi' Shields |
| Rory Brown | Rory Cowan |
| Elder Peach | Drew Caiden |
| Elder Bush | Palle Nodeland |
| Director | Ben Kellett |
| Producer | Stephen McCrum |
| Writer | Brendan O'Carroll |
Buy online
Buy online
Available on: DVD, Blu-ray or Video download
From suppliers including: iTunes