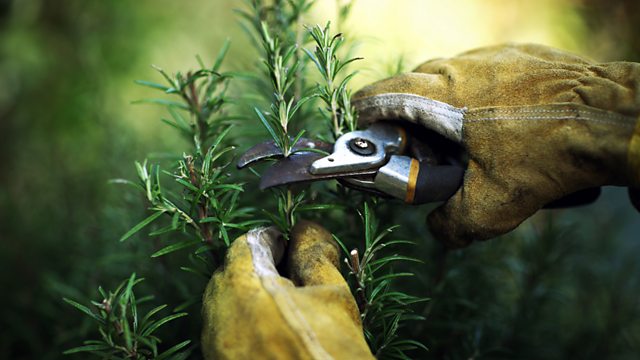 "If we're lucky", says botanist Phil Gates "we gardeners get to experience the seasonal rollercoaster of gardening emotions about 70 times. Just 70 spring, summer, autumn and winters in a lifetime... and with each passing cycle those that remain become even more precious". In this series, recorded over a year, the relationship between a gardener and his garden are explored, and the emotions evoked by each season.
With the arrival of autumn, the fruits of all the hard work of the previous months are literally ready to pick. Phil doesn't waste any time gathering in the Autumn-fruiting raspberries.
The other great success in the garden has been the raised beds; and for what feels like weeks now, Phil and his wife have been enjoying home-grown courgettes. In fact Phil is so impressed by his raised beds, that he's beginning to think about transforming all the vegetable area to raised beds ... and having bought a new spade after the old finally collapsed, he's ready to begin!
Before that, though, there are plenty of other tasks to do, such as cutting the hedge, now the nesting season is over, With a hatred of noisy electrical garden tools Phil happily clambers up his ladder with a pair of secateurs and sets too, trimming the beech hedge.
Whilst to some, the garden in Autumn may seem at times a sad place; as leaves fall off the trees, but the red, orange and golden colours of the leaves are for Phil a last 'Hoorah!' as the garden explodes with colour; enjoying its very own firework display. Surrounded by such wonderful colours as well fruits and vegetables to harvest, Autumn is surely a time to feel a sense of elation in the garden.
Presenter Phil Gates
Producer Sarah Blunt.
Last on