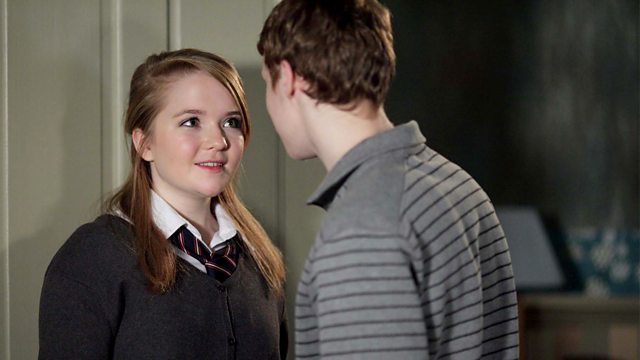 22/03/2011
Alfie suggests he and Kat run away somewhere to give them some time alone, but she doesn't want to. Alfie brings up the idea of IVF, but Kat's unsure. Kat and Jack discuss their 'strained' relationships. Alfie decides to go and stay at the B&B, telling Kat he'll always love her, but isn't sure she feels the same. Kat stops him leaving and agrees to the IVF.
Jack persuades Ronnie to go out without James. When she returns, Jack and James have gone. Scared, Ronnie finds Jack having a drink with Michael in the Vic. Ronnie demands that Jack come home. Jack refuses, so Ronnie takes James and leaves. Later Jack tells Michael he wants them to run the boxing gym together full time. They decide to name it 'Basher Jim's'.
Darren struggles to look after George on his own. Heather visits a solicitor and realises she can't afford to fight for her son. Darren's distracted when he sees Heather rush past, upset, the customer he's on a test drive with steals the car. Max finds Darren in the launderette. Max's furious, but Alfie, Patrick and Ricky defend Darren. The men fold washing and discuss fatherhood. Darren and Heather talk, both admitting they can't bring up George alone. Heather's thrilled to have George back with her. Darren's unsure when Jodie's presumes things can now go back to normal between them.
Abi starts to doubt Jay's feelings, but is reassured when they kiss after spending the afternoon together. Max walks in and throws Jay out. Lauren calls Tanya in to stop Max and Abi arguing.
Jane reminds Ian he has to stop treating her like his wife. Ian goes out on the pull with Greg as his wingman. He plucks up the courage to approach some women, but Michael gets there first.
Last on
Credits
| Role | Contributor |
| --- | --- |
| Kat Moon | Jessie Wallace |
| Alfie Moon | Shane Richie |
| Darren Miller | Charlie G Hawkins |
| Heather Trott | Cheryl Fergison |
| Patrick Trueman | Rudolph Walker |
| Jack Branning | Scott Maslen |
| Michael Moon | Steve John Shepherd |
| Ronnie Branning | Samantha Womack |
| Abi Branning | Lorna Fitzgerald |
| Jay Mitchell | Jamie Borthwick |
| Max Branning | Jake Wood |
| Vanessa Gold | Zoe Lucker |
| Jodie Gold | Kylie Babbington |
| Lauren Branning | Jacqueline Jossa |
| Tanya Branning | Jo Joyner |
| Greg Jessop | Stefan Booth |
| Ian Beale | Adam Woodyatt |
| Jane Beale | Laurie Brett |
| Ricky Butcher | Sid Owen |
| Dr Yusef Khan | Ace Bhatti |
| Morgan Jackson-King | Devon Higgs |
| Executive Producer | Bryan Kirkwood |
| Director | Clive Arnold |
| Writer | Daisy Coulam |