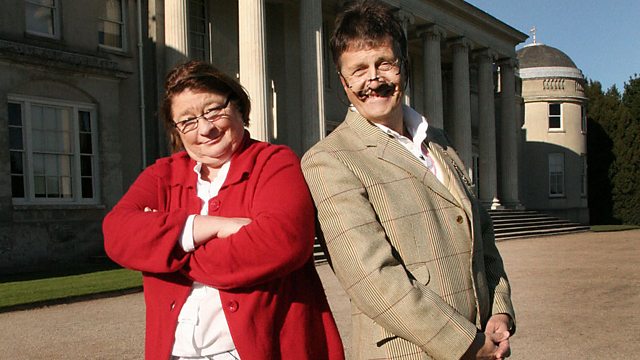 Antiques expert Tim Wonnacott and chef Rosemary Shrager visit Belvoir Castle in Rutland following in the footsteps of Queen Victoria, who visited here in 1843. She was 24, had been married for nearly four years and already had three children.
Tim reveals that, when Victoria and Albert came to Belvoir, Albert's popularity rating was pretty low. Although Victoria adored him, he wasn't really liked by the public or the upper classes. So Victoria's advisers - the spin doctors of the day - thought that the sight of a handsome man on horseback, hunting heroically with the famous Belvoir hunt, might help boost his image. So this notionally private visit was designed to have a public impact and Tim discovers if it worked.
In contrast to the magnificent main castle entrance, the servants had to enter the castle through a dark and dingy tunnel hidden out of sight below the ramparts. Rosemary discovers it's not for the faint-hearted. With chef and food historian Ivan Day, Rosemary cooks a dish that would have been cooked for the whopping 1,000 people the Duke invited for dinner over the course of the three-day royal visit, hunter's beef: a hearty brisket that takes 16 days to cure. They prepare the food in the magnficant kitchen at Belvoir that is just as it would have been during HRH's stay.
Last on
Credits
| Role | Contributor |
| --- | --- |
| Presenter | Tim Wonnacott |
| Presenter | Rosemary Shrager |
| Producer | Richard Graveling |
| Director | Richard Graveling |
| Producer | Jules Whomsley |
| Director | Jules Whomsley |
| Participant | Ivan Day |