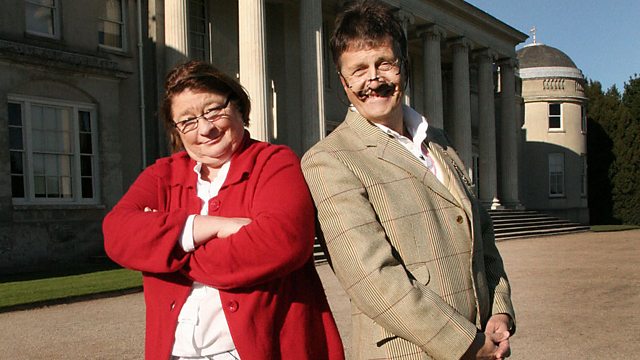 Antiques expert Tim Wonnacott and chef Rosemary Shrager travel in the footsteps of Queen Victoria to the castles and stately homes she visited throughout her life. Using her own diaries and other first-hand accounts of her visits, they discover the extraordinary preparations that were undertaken, and exactly what happened during the visits.
Victoria visited Wimpole Hall in Cambridgeshire with Prince Albert in 1843. She was just 24 years old but had already been queen for six years. Albert had just received an honorary degree from Trinity College Cambridge, which greatly pleased Victoria as a sign that he was starting to be accepted by her subjects. But she wasn't pleased by the crowds who fought to get a glimpse of the celebrity couple.
Drawing on an amazing book that was kept by the host, the Earl of Hardwicke, and his steward, Tim tells the stories of how the driveway was moved to make it easier for Victoria's carriage, how some pesky visiting servants got in the way at dinner, and how another lot of servants surprised Queen Victoria in the chapel. He's also shown around the Hall's Home Farm - a model farm that Victoria and Albert visited. Today it's still a working farm reintroducing Victorian breeds.
Rosemary discovers the secret of how servants made sure they didn't accidentally stray into the wrong areas of the house through a special surface applied to the doors downstairs, and how the hierarchy worked in the wonderful downstairs rooms at Wimpole that remain just as they were during Victoria's visit. With food historian and chef Ivan Day, Rosemary painstakingly recreates a typical Victorian dessert: steamed cherry cabinet pudding with a very alcoholic sauce. They also make a silver cleaning polish using deer antlers as an ingredient.
Last on
Credits
| Role | Contributor |
| --- | --- |
| Presenter | Tim Wonnacott |
| Presenter | Rosemary Shrager |
| Producer | Peter Gauvain |
| Director | Peter Gauvain |
| Participant | Ivan Day |