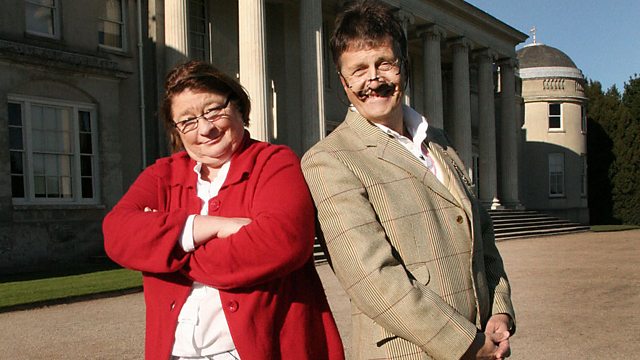 Tim Wonnacott and Rosemary Shrager are at Walmer Castle in Kent, following in the footsteps of Queen Victoria, who was 23 years old and had been queen for five years when she visited in November of 1842 with Albert and their two children Edward and Victoria, both under two.
It got off to a bad start when the royal carriage got stuck in the archway and chaos ensued. Tim tells the story of how one morning the royal lovebirds slipped out of the castle with their favourite dogs and set off along the beach for a walk. A sudden squall forced them to seek shelter with a fisherman. His hospitality was later recognised by the queen - who rewarded him with a pension no less. Tim also tells how newspapers report Victoria being in the 'very picture of blooming health.' Perhaps it wasn't just the sea air that gave her that glow, but Tim does some maths and reveals that she was in fact about 12 weeks pregnant with her third child while she was at Walmer.
Queen Victoria and the children seemed to come down with ailments as an amazing document, the medical records written by the local doctor, Dr Hulke, who attended them, reveals. Tim talks to Dr Paul Grassby, an expert in Victorian ailments and their remedies, who deciphers the records and reveals just what they were prescribed.
Food historian Ivan Day helps Rosemary cook the apparently simple dish of consomme. But this one is made in the posh Victorian style using a whole partridge and some beef cuts known in Victorian times as soup cuts. It involves several hours of simmering, refining and reducing before some elaborate vegetable decorations are added.
Last on
Credits
| Role | Contributor |
| --- | --- |
| Presenter | Tim Wonnacott |
| Presenter | Tim Wonnacott |
| Producer | Owen Rodd |
| Producer | Owen Rodd |
| Director | Owen Rodd |
| Director | Owen Rodd |