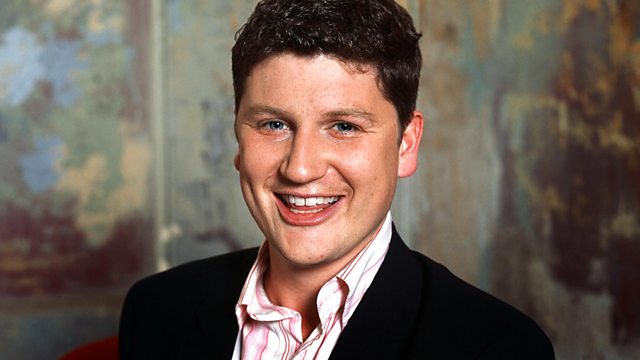 Harry's Boston Concerto
The first in a series of special Music Matters broadcast on three consecutive nights in which Tom Service gets unprecedented access to three of Britain's most important composers.
Sir Harrison Birtwistle has never written a concerto for a stringed instrument. His violin concerto which receives its UK premiere on Wednesday evening at the Proms was given its first performance in Boston by violinist Christian Tetzlaff and the Boston Symphony Orchestra at the beginning of March this year.
Tom Service meets Sir Harrison, or Harry as he's better known, at his home, a converted silk factory in Wiltshire in the weeks leading up the first performance of the concerto in the States. He then travels to Boston, and has unprecedented access to him in during rehearsals, and in the hours before the premiere. Birtwistle talks candidly about what drives his music, his fears for the concerto, his frustrations during rehearsal and how a composer can never be satisfied with their music:
"A clarinet player in Holland once asked me if I was pleased with what she'd just played. I asked her if she looked in the mirror this morning and did she like what she saw? And she said no she didn't. But nobody likes what they see. And I think it's a bit like that. I've gone through it note to note and made this piece, and at the back of my mind, as there always is, there are certain wounds. That could be better. I could go on writing a piece of music for quite a long time, but I'm not going to. I know the wounds, and I know the wounds from very early pieces, but when I hear them after a period of time, the wound has healed, but another one has appeared in the mean-time. That's the insecurity more than anything. It's insecurity more than tragedy!"
He talks about his early life in music growing up as a child in Accrington.
"I always wrote music. I wrote music from the age of 8. I've still got it. I just sort of had a notion that there was something else out there. I was attracted to making a music that in a sense didn't already exist."
"I played in the pit orchestra in theatres as in Accrington. When that finished I was asked to stay on and play the pantomimes - I think it must have been terrible. For 2 years I carried on and then played in variety shows . comedians and all that. I'd got £56 I'd been saving up all my life to by a motorbike and bought a saxophone with it. I loved all that . The pantomime and the variety. I was a sort of a professional musician as a kid - 14 years old - still at school."
"It was the idea of being a creative person I liked, but I didn't see it as pretentiously as that."
It was the response to Birtwistle's piece Panic performed at the Last Night of the Proms in 1994 that brought his name to a wider public. The BBC switchboard was overwhelmed with callers complaining about such a piece being programmed on the Last Night. But Harry is philosophical about the public reaction to his work.
Compromise doesn't seem to be a word in Birtwistle's make up. He's a talented cook and gardener. He seems to approach everything with the same intensity as he does when he composes.
"Yes, I have no hobbies. I have no relaxations. If I do a bit of gardening or cooking, It'd be silly to do something that wasn't as good as possible. In that sense you can't do better."
Service asks him what his limitations as a composer are.
"I can only do what I do. The sort of fluency that comes through commercial music, I couldn't do. I admire it, often it's very, very good, particularly with film music it's craft. I don't know where the craft is in what I do. If you listen to John Williams you know there craft that makes it have that Technicolour. I don't have another side."
But before travelling to Boston, Birtwistle talks about the violin concerto:
"The side of it that worries me is the balance. Having looked at several violin concertos since, they're quite thin the instrumentation. I was conscious of it [the balance] but I don't know if I've solved it. Never mind what I've written, if I can hear it, I'll be happy!"
Tom asks if he's looking forward to hearing it in Boston.
"Oh yeh - yeh - of course I am!"
Presenter: Tom Service.
Producer: Jeremy Evans.
Email: musicmatters@bbc.co.uk.
Last on