Add music you love and enjoy it with
Queen

Hammer To Fall

Queen - Greatest Hits II, Parlophone

Rumer

Goodbye Girl

Seasons Of My Soul, Atlantic, 1

Big Screen Belter

Rose Royce

Is It Love You're After

Sampled (Various Artists), Virgin

The Beatles - A Hard Day's Night, Parlophone, 10

The All Time Greatest Movie Songs, Columbia/Sony Tv

Cee Lo Green

Bright Lights Bigger City

(CD Single), Warner Bros, 1

Songs In The Key Of Life Vol.2, Hitsville

Golden Oldie

Frank Sinatra - The Reprise Years, Reprise

(CD Single), Wall Of Sound, 3

The Very Best Of Albert Hammond, CBS, 10

Survivor

Eye Of The Tiger

The No.1 Movies Album (Various Artist, Polygram Tv

(CD Single), Verve Forecast, 1

The Best Of Matt Bianco, East West Records

(CD Single), Parlophone, 1

Arrested Development - Greatest Hits, Emi Gold

The Very Best Of Fleetwood Mac, Warner Strategic Marketi, 6

The Best Of Arlo Guthrie, Warner Bros

Adele

Someone Like You

21, XL, 1

Gobsmacker #1

21st Century Rock (Various Artists), Virgin

Gobsmacker #2

Bob Dylan

Blowin' In The Wind

The Best Of Bob Dylan, Columbia

Genesis

Land Of Confusion

Genesis - Turn It On Again, Virgin

Carpenters

Rainy Days & Mondays

The Carpenters - Yesterday Once More, A&M

Chuck Berry

You Never Can Tell (C'est La Vie)

The Best Of Chuck Berry, MCA
Giving People the Chance To Get Together Is One Of The Best Things A Human Can Do

Today's show was dedicated to anyone who attended a gathering over the weekend.

Today's Show Starred:

Daron Hughes from Eccles in Kent chose the Big Screen Belter

Angus Carnie from Altrincham in Cheshire who has done a white chocolate cookie survey in the office!

Rob Evans from Derby has completed a Kilomathon that's a twenty six kilometre run!

Sam Marshall from Cardiff is celebrating her first fully fit birthday in three years

Louis Ward from West Yorkshire wore odd socks and odd shoes to school on Friday in aid of Comic Relief

Bay Maddox from Shropshire is playing in her first netball tournament today

Ann Miller from Edinburgh chose the Golden Oldie

Legendary Chef Raymond Blanc was today's Mystery Guest

Alison O'Dwyer from Cornwall chose the Gobsmackers

Rev Rob Gillion, Area Dean Of Chelsea and Rector Of Holy Trinity Church gave us reason to Pause For Thought

Pause For Thought

From Rev Rob Gillion, Area Dean of Chelsea and Rector of Holy Trinity Church:

"Chris, last week I spoke about visiting Thailand during the Asian Tsunami. While I was there amongst the rubble and destruction I was asked to offer prayers and we lit a large candle – a candle of hope. There was a real sense of unity amongst us all - whatever our faith.

Prayer is universal. Almost everyone, it seems, prays at some point in their lives. As a Christian my conversation with God is through Christ. Prayer for me is like the heart that pumps blood into all my words and actions. We should always pray and never give up, says Jesus.

Our church at the moment is focussing on prayer – we have two bishops addressing us and we're encouraging people to join us for morning and evening prayer. Every day many people drop in to light a candle, to stop, pause and pray.

One incident that happened to me while I was a trainee Vicar really encouraged me in prayer. I was sent to shadow the Chaplain of Basingstoke Hospital. I never liked hospitals – as I remember as a child visiting my Grandpa and I hardly recognised him as he lay dying in bed and I linked hospital with death and illness, rather than life and healing.

Anyway the Chaplain of Basingstoke Hospital was doing his rounds and he said I was to go and see an old lady in the last bed in the ward, who was in a coma, and minister to her. So off I went. I said good morning but of course no response – but I knew it was good to make contact by touch so I held her hand. I then began to mumble the Lord's Prayer 'Our Father which art in heaven... I suddenly noticed as I prayed that her lips were moving and she was praying with me! It was a special moment for me and I hope for her!

So now every day in every way I offer a prayer of thanks, or request or just in desperation - and things happen.

As Archbishop William Temple said 'When I pray coincidences happen when I don't they don't.' So go on let's just pray!"
500 WORDS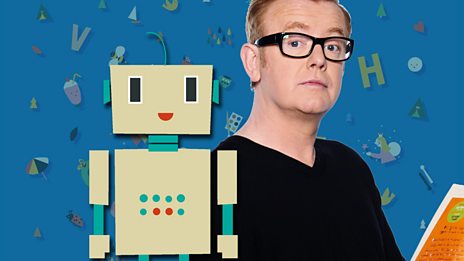 Featuring celebrity videos and top writing tips!
Free download
Catch up with the latest Breakfast fun with Chris Evans. Hear the best stories and the biggest…