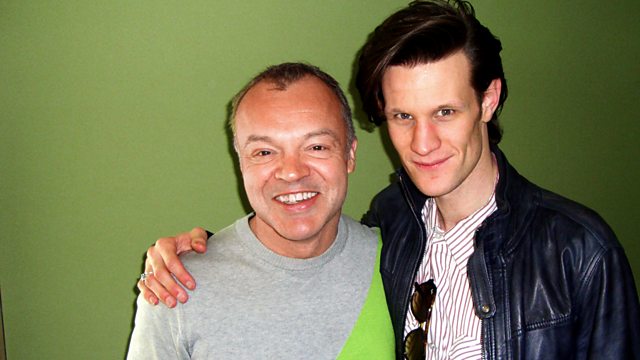 From sci-fi to sandals - Matt Smith and John Hannah
Doctor Who's Matt Smith and 'The Mummy' and 'Four Weddings and a Funeral' star John Hannah joined Graham for a show where electricity meter-fiddling, Facebook fear and dating deception all featured.
John chatted about his latest, snappily-titled TV series 'Spartacus: Gods of the Arena - Past Transgressions', as well as revealing why his well-travelled kids are treated like rock stars in China. And it's not because they're ACTUAL rock stars...
Graham and Matt Smith breached broadcasting etiquette by texting each other DURING the interview and Matt talked about why he's afraid of Facebook - you'd think the Doctor would be better with technology wouldn't you?
In the latest 'Grill Graham', Mr Norton, Maria and the nation offered advice to wannabe internet-dater Peter in Norwich who may not have been entirely honest about his current appearance, and also to Edith who feels smothered by her parents whenever she returns from boarding school.
'Better the Devil You Know' by Liverpudlian legend Sonia was selected as today's 'I Can't Believe It's Not Better' song by Paul in Bridgnorth and Emily Ryan in High Wycombe is the proud recipient of four Graham Norton coasters after suggesting today's 'Tune with a Tale', 'Running in the Family' by Level 42.
Last on