Biography

Often dubbed the 'queen of mean' and even the 'rudest woman on TV', Anne Robinson is currently best-known for reminding people that they are leaving 'with nothing' followed by a tart 'goodbye' on the hugely popular The Weakest Link.

Born near Liverpool on 26th September 1944 Anne's father was a school teacher, her mother a market stall owner and shrewd businesswoman. It was her mother's fiery personality – a constant contradiction between empowerment and success plus her own battle with alcoholism which have had a particularly lasting impact on her life. Her affluent but hard-working background combined with the influence of her mother make it clear to see where her well-loved on-screen persona (not so far removed from her true character) is based.

No stranger to controversy on and off screen - Anne has faced divorce, losing custody of her daughter, accusations of racism and the wrath of animal rights campaigners as well as ongoing commentary in the press about her appearance. Despite this, audiences on both sides of the Atlantic love her wit and dry sense of humour. When she delivers her knock-out one liners straight down the lens – whether it be to an unfortunate contestant on The Weakest Link or a squirming company executive on Watchdog – she speaks directly to the viewer as her co-conspirator, acknowledging them with a trademark wink. It is this directness, honesty and mischievousness that have made her an enduring household name.

A vocal advocate of feminism Anne showed no qualms about striding into the almost exclusively male-dominated offices of Fleet Street in the 1960s and rising through the ranks before going on to become one the best-known female presenters on the BBC. Whether it be delving into the forthright and sometimes bizarre world of the BBC postbag in Points of View or speaking out for consumers on Watchdog she is never short of a quick-witted observation and is probably loved and loathed by the British public in equal measure.
Credits
Interviewed Guest

Anne Robinson
Presenter

Mark Lawson
Director

Louise Bourner
Producer

Louise Bourner
Executive Producer

Eamon Hardy
Mark Lawson Talks To...Mark Lawson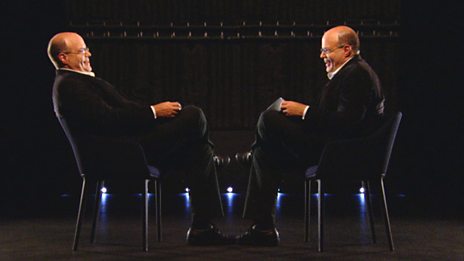 The broadcaster interviews himself about the art of the celebrity interview.