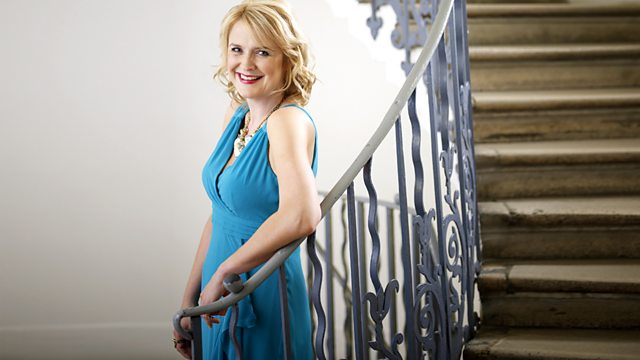 Monday - Sarah Walker
Classical Collection with Sarah Walker. Today we begin a series of recordings from Simon Rattle, our new Artist of the Week. As the week unfolds we will hear him in some well loved pieces including Debussy's La Mer, Janacek's Sinfonietta and Brahms' Third Symphony. Today however we will start a little closer to home, with The Lark Ascending by Vaughan Williams and Britten's Suite on English Folk Tunes.
10.00
Mussorgsky
Hopak, from Sorochintsy Fair
National Symphony Orchestra of Ukraine
Theodore Kuchar (conductor)
NAXOS 8.555924
10.02
Rameau
Overture to Zais
Les Musiciens du Louvre
Marc Minkowski (conductor)
ARCHIV 00289 477 5578
10.09
Schubert
4 songs:
Das Wandern, from Die schone Mullerin, D795; Jagers Liebeslied, D909; Der Musensohn, D764;
Die Vogel, D691
Dietrich Fischer-Dieskau (baritone)
Gerald Moore (piano)
DG 477 8989
10.19
Vaughan Williams
The Lark Ascending
Nigel Kennedy (violin)
City of Birmingham Symphony Orchestra
Simon Rattle (conductor)
EMI 5 56413 2
10.37
Copland
Rodeo
London Symphony Orchestra
Aaron Copland (conductor)
SONY SMK 60133
10.58
Britten
Suite on English Folk Tunes: A time there was, op.90
Bobby Watson (alto sax)
City of Birmingham Symphony Orchestra
Simon Rattle (conductor)
EMI CDC 5 55394 2
11.13
Bartok
Romanian Dances
Vadim Repin (Violin)
Boris Berezovsky (Piano)
ERATO 8573-85769-2
11.19
Liszt
Annees de pelerinage, Bk 1 (Suisse) - selection:
1. Chapelle de Guillaume Tell
3. Pastorale
5. A bord d'une source
6. Vallee d'Obermann
9. Les cloches de Geneve
The BAL choice as recommended in last Saturday's CD Review.
Last on