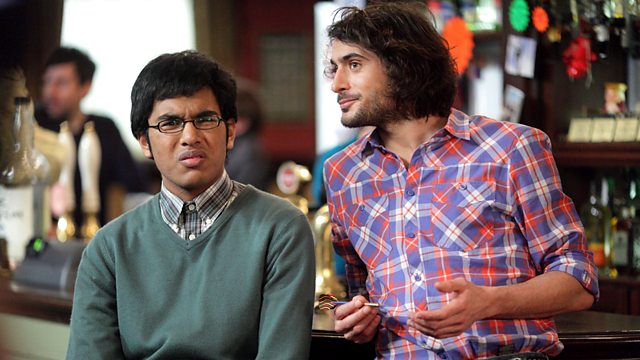 28/02/2011
Yusef visits the Masoods to discuss Afia's ring but Zainab insists they've already bought it. Tamwar's worries when Afia and Zainab spend time together, but they get on well. Later, Zainab tells Yusef Afia will be welcomed into her family with open arms, but he'll never be part of it. Yusef talks to Zainab about the early days of their marriage. Scared by the electricity between them, Zainab flees. Masood manages to raise the money to buy Afia's ring. Happy, he presents it to Zainab but she breaks down, they must stop the wedding, she cannot bear to have Yusef in their lives.
At Mo's request, Alfie fixes the plumbing in the Vic. Kat's friend Martina arrives with daughter Shenice. Kat's not pleased to see her, telling Mo Martina grassed her up. Martina explains she had to, her bar was being smashed up and Shenice was there. Kat tells Martina about Michael and Tommy. Alfie's roped in to babysit Shenice while Martina and Kat go out, Kat's grateful. Martina tells Kat she wants to stay for a while, she's lost the bar.
Ronnie insists on going to her counselling session alone. Ronnie leaves her purse behind so Glenda follows her with it. Glenda sees Ronnie pass the tube station and catches up with her in the park. Ronnie's skipped her counselling session, to appease Glenda she pretends to make another appointment.
Janine job hunts whilst babysitting an ill Morgan. Whitney hasn't come home and isn't answering her phone. Janine lies to Ricky, claiming Whitney's gone to stay with Ryan.
Paparazzi are crowded outside Denise's house, it's the day of Lucas' sentencing. Throughout the day Yusef is supportive of Denise and persuades her to go to court. Lucas is sentenced to life.
Last on
Credits
| Role | Contributor |
| --- | --- |
| Masood Ahmed | Nitin Ganatra |
| Zainab Masood | Nina Wadia |
| Yusef Khan | Ace Bhatti |
| Tamwar Masood | Himesh Patel |
| Afia Khan | Meryl Fernandes |
| Kat Moon | Jessie Wallace |
| Alfie Moon | Shane Richie |
| Mo Harris | Laila Morse |
| Denise Johnson | Diane Parish |
| Kim Fox | Tameka Empson |
| Patrick Trueman | Rudolph Walker |
| Ronnie Branning | Samantha Womack |
| Glenda Mitchell | Glynis Barber |
| Jack Branning | Scott Maslen |
| Janine Malloy | Charlie Brooks |
| Ricky Butcher | Sid Owen |
| Carol Jackson | Lindsey Coulson |
| Ian Beale | Adam Woodyatt |
| Executive Producer | Bryan Kirkwood |
| Director | Alex Kalymnios |
| Writer | Michael Begley |
| Jane Beale | Laurie Brett |
| Syed Masood | Marc Elliott |
| Martina Quinn | Tamara Wall |
| Shenice Quinn | Lily Harvey |