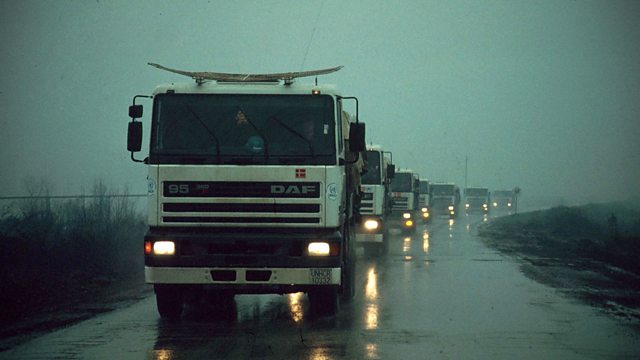 UNHCR Bosnia
Listen in pop-out player
In this episode of The Reunion, Sue MacGregor gathers together six people who were closely connected to the humanitarian aid operation in Bosnia during the war of 1992 to 1995.
This was the most devastating conflict in Europe since the end of World War 2. Atrocity after atrocity stirred public opinion to demand action but this was seen as a civil war to which there was no easy military solution. The most the international community could agree to start with was a mission to deliver humanitarian aid.
The relief organisation which found itself at the centre of the crisis was the UN Refugee Agency, UNHCR. The operation in Bosnia was one of the most complex and risky they'd ever undertaken.
More than two million people were displaced during the conflict by what became known as 'ethnic cleansing.' Many suffered starvation or rape and were forced into concentration camps. Others were massacred. Supplies of food, fuel, medicine, clothes and shelter were critical.
But the conditions under which aid workers were operating were exceptional. In the long term their experience in Bosnia would have an unprecedented impact on the future of the organisation and its way of working.
Sue is joined around the table by; Tony Land, Chief of Operations for the UN refugee agency for much of the war; Larry Hollingworth, was a logistics officer with UNHCR; Amira Sadicovic, worked as UNHCR's external relations officer; Kris Janowski became its longest serving field-worker, Paddy Ashdown was the most prominent British politician to visit Bosnia during that period and Misha Glenny reported from Bosnia for the BBC throughout the war.
Producers: Sarah Cuddon and David Prest
A Whistledown Production for BBC Radio 4.
Last on