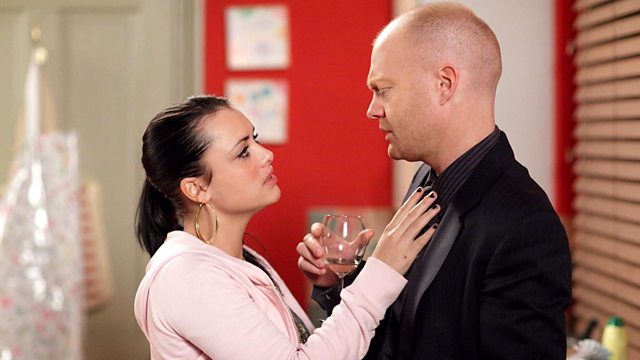 24/02/2011
Rob shows photos of Whitney to a friend, they agree they like her. Lauren gives Whitney £10, Whitney's disappointed but covers, telling Lauren it's a massive help. Max pays Whitney to look after the car lot. She does a good job and Max promises her more money if anyone she dealt with buys a car. David arrives and isn't happy to discover his appointment's with Janine, not 'Chantelle'. He offers Janine £10 for sex and, humiliated, she tells him to get out. Fat Boy persuades Whitney to come to Lauren's horror movie marathon. Drunk, Janine turns up at Max's. Whitney's upbeat, telling Janine one of the car lot customers fancied her. Janine snaps, telling Whitney she might think she's desirable, but she's just a stupid little tart. Max throws Janine out. He calms Whitney down and they share some wine. Misreading Max's kind behaviour, Whitney kisses him. Lauren walks in and, furious, drags Whitney away from her dad.
At Lauren's horror movie marathon, Mercy and Seb (Lauren's friend) only have eyes for each other to Fat Boy and Lauren's dismay.
Denise and Yusef get on well, but Kim continues to flirt with Yusef. Rumours are circulating about Yusef, Denise points him in Dot's direction. Zainab's shocked when Denise reveals Yusef's staying at the B&B until the surgery flat's ready. Yusef visits Dot, but she sends him away, unimpressed. After studying Dot and Jim's medical records, Yusef tries again and after a lengthy chat about her various ailments, Dot's won over. Missing Masood, Zainab's thrilled when he and Tamwar return early from their course, but doesn't mention Yusef.
Patrick plies Alfie with drink and advice. Inspired, Alfie presents two jigsaw puzzle pieces to Kat – hoping it represents them. Alfie's gutted when Kat disagrees and hands them back.
Last on
Credits
| Role | Contributor |
| --- | --- |
| Whitney Dean | Shona McGarty |
| Max Branning | Jake Wood |
| Lauren Branning | Jacqueline Jossa |
| Janine Malloy | Charlie Brooks |
| Dot Branning | June Brown |
| Yusef Khan | Ace Bhatti |
| Denise Johnson | Diane Parish |
| Kim Fox | Tameka Empson |
| Patrick Trueman | Rudolph Walker |
| Alfie Moon | Shane Richie |
| Kat Moon | Jessie Wallace |
| Mo Harris | Laila Morse |
| Mercy Olubunmi | Bunmi Mojekwu |
| Arthur 'Fat Boy' Chubb | Ricky Norwood |
| Zainab Masood | Nina Wadia |
| Masood Ahmed | Nitin Ganatra |
| Executive Producer | Bryan Kirkwood |
| Director | Gwennan Sage |
| Writer | Jeff Povey |
| Tamwar Masood | Himesh Patel |
| Seb Parker | Tommy Bastow |
| Rob Grayson | Jody Latham |
| David Priors | Daniel Coonan |