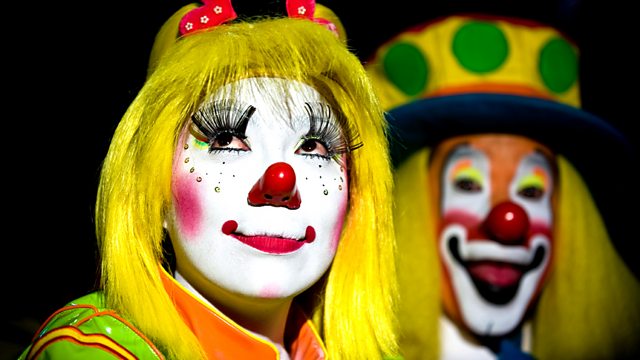 Bring On the Clowns
Clowning is one of the oldest forms of entertainment. We have been laughing at their physical antics and outlandish make-up and costume for generations. If there is ever a crisis in a circus performance, the cry goes out-"Send in the clowns!" -and that function of clowning to heal awkward, embarrassing and sometimes painful situations is particularly resonant in contemporary society.
But what role does clowning have today? Traditionally associated with the circus ring, clowns are now often relegated to children's parties and as mascots in advertising promotions in car parks and burger bars. Do they still have the power to transform people (not just children) with laughter, wonder and fun?
A common definition of a clown is "an innocent abroad in a malevolent world" in which the clown takes a child-like approach to problems and events in an often-hostile social, political and natural environment. In the face of changing audiences, tastes and forms of entertainment, how has British Clowning adapted and what can it offer? It is often street performances and community arts projects that are the vanguard of urban regeneration and community renewal. And does clowning still retain its power to subvert through anarchic comedy and to transform our emotions through laughter?
The programme looks at the working lives of a number of contemporary clowns who inhabit the world of circus, rock festivals and church , street theatre and children's party, and whose work can take them into hospital wards and to the violent streets of Iraq. What role do they play in a world of economic downturn? Can their slapstick comedy beat depression in a recession?
Presenter: Tony Lidington
Producer: Mike Greenwood.