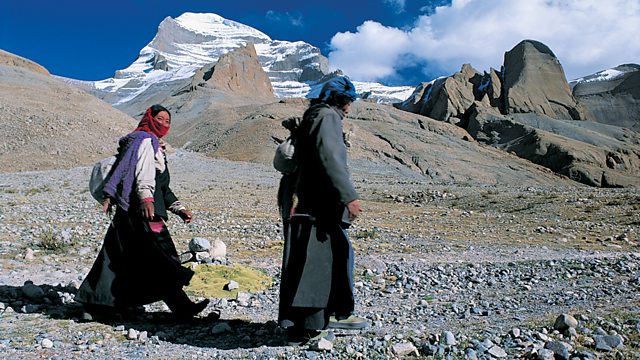 "By trekkers' standards our party is small and swift: a guide, a cook, a horse-man, myself. We move scattered above the river, while loan traders pass us the other way, leading their stocky horse and mule-trains between lonely villages. They look fierce and open, and laughingly meet your eyes. The delicacy of the plains has gone..."
Renowned travel writer Colin Thubron is about to climb Mount Kailis in Tibet, one of the holiest places in the world and hardly visited by westerners. Its slopes are rugged, glacial, and peopled by the toughest types alive. Its slopes are also full of stories: Hindu and Buddhist tales of struggle, devotion and intrigue. But on from these lower reaches, Kailis's peak rises sacrosanct. Forbiddingly distant. And it is here that Thubron casts his gaze, then walks towards, as listeners can discover in his new account.
2. During the ever rockier ascent of Kailas, the author with his guide and cook must enlist the help of Dhabu, who has horses to help the cause...
Read by Stephen Boxer.
Last on