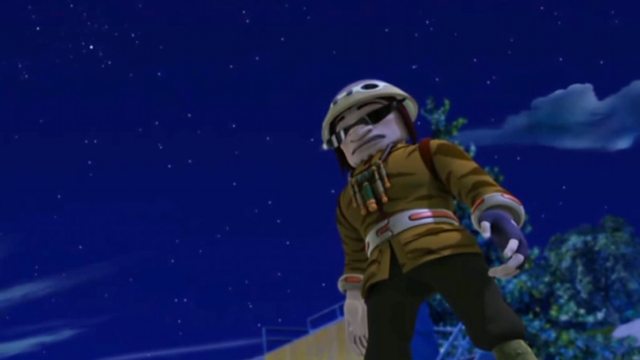 Tha trì deugairean a' sabaid eilthirich le cuideachadh bho nighean àraidh agus a seanair. Tha Cathy a' toirt cuireadh dhan Ollamh Dodail, preseantair Tbh, tighinn air chèilidh orra airson program a chlàradh mu beatha Mhic an Duine. A' faireachdainn gu bheil a h-uile duine caran doirinneach son a' phrògram aige, tha an t-Ollamh a cruthachadh suidheachaidhean cunnartach dhaibh. Tha inneal-mùthaidh a toirt ionnsaigh air Mata, the Wendy air a fàgail a' tuiteam às na speuran agus an MBC air an cuartachadh le feachd de chamara-bots. An tig aca air an car a thoirt à Dodail 's an ùpraid a thoirt gu crìoch.
Three teens battle alien invaders with the help of an alien girl.
Cathy invites her favourite TV star to Earth to film a documentary about humans. Disaster soon follows. After having Mark attacked by a robot juice machine and leaving Wendy suspended from a hot air balloon, he then unleashes an army of camerabots. Can the MBC show him that he can't get the better of them?
Last on