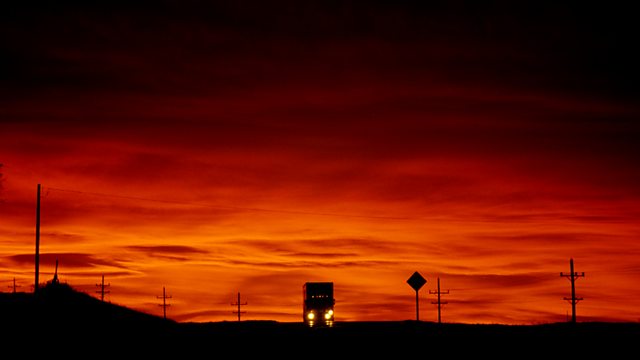 16/02/2011
John Shea presents the Prague Radio Symphony Orchestra performing Hurnik, Suk and Bruckner.
1:01 AM
Hurnik, Ilja [1922-]
Klicpera - overture
Prague Radio Symphony Orchestra, Ondrej Kukal (conductor)
1:09 AM
Suk, Josef [1874-1935]
Fantasy for violin and orchestra (Op.24) in G minor
Martina Bacová (violin), Prague Radio Symphony Orchestra, Ondrej Kukal (conductor)
1:34 AM
Wagner, Richard (1813-1883) transcribed by Liszt
Isolde's Liebestod transcribed by Liszt for piano (S.447)
François-Frédéric Guy (piano)
1:42 AM
Bruckner, Anton [1824-1896]
Symphony no. 7 in E major
Prague Radio Symphony Orchestra, Ondrej Kukal (conductor)
2:37 AM
Bach, Johann Sebastian (1685-1750)
Sonata No.3 in C major (BWV.1005)
Sigiswald Kuijken (violin - Giovanni Grancino, Milano c.1700)
3:01 AM
Schubert, Franz (1797-1828)
Quintet for 2 Violins, Viola and 2 Cellos in C major (D.956)
Artemis Quartet
3:52 AM
Andriessen, Jurriaan (1925-1996) text: William Shakespeare
Sonnet No.43
Netherlands Chamber Choir, Uwe Gronostay (conductor)
3:59 AM
Chopin, Frédéric (1810-1849)
Scherzo for piano No.4 (Op.54) in E major
Simon Trpceski (piano)
4:11 AM
Vivaldi, Antonio (1678-1741)
Concerto in D major (RV.208), 'Grosso mogul'
Elizabeth Wallfisch (baroque violin), Australian Brandenburg Orchestra, Paul Dyer (director)
4:26 AM
Scherrer, Carli (b.19??) arranged Corsin Tuor
Zuola roda, zuola
Brassband Bürgermusik Luzern, Corsin Tuor (director)
4:30 AM
Brahms, Johannes (1833-1897)
Variations on a theme by Haydn (Op.56a)
Slovenian Radio and Television Symphony Orchestra, Samo Hubad (conductor)
4:48 AM
Liszt, Franz (1811-1886)
Légende No.1: St. François d'Assise prêchant aux oiseaux (S.175)
Llyr Williams (piano)
5:01 AM
Järnefelt, Armas (1869-1958)
The Sound of Home
Finnish Radio Symphony Orchestra, Ilpo Mansnerus (conductor)
5:11 AM
Castello, Dario (first half of c.17th)
Sonata IV, for 2 violins and continuo
Il Giardino Armonico
5:20 AM
Wikander, David (1884-1955)
Förvårskväll (An evening early in spring)
Swedish Radio Choir, Eric Ericson (conductor)
5:25 AM
Beethoven, Ludwig van (1770-1827)
Sonata quasi una fantasia for piano (Op.27 No.2) in C sharp minor, 'Moonlight'
Håvard Gimse (piano)
5:39 AM
Gilse, Jan van (1881-1944)
String Quartet
Ebony Quartet
5:49 AM
Rore, Cipriano de (c1515-1565)
Se com'il biondo crin de la mia Filli' (If, like the golden tresses of my Phyllis....)
The Consort of Musicke, Anthony Rooley (director)
5:52 AM
Haydn, Joseph (1732-1809)
Symphony No.64 in A major, 'Tempora mutantur' (Hob: I/64)
Danish Radio Sinfonietta/DR, Rolf Gupta (conductor)
6:12 AM
Falla, Manuel de (1876-1946)
Ritual Fire Dance from El Amor Brujo
Monika Leskovar (cello), Ivana ?varc-Grenda (piano)
6:16 AM
Sermisy, Claudin de (c.1490-1562)
5 Chansons: 'Au joly boys'
Ensemble Clément Janequin
6:26 AM
Abel, Carl Friedrich (1723-1787)
Concerto for flute and orchestra (Op.6 No.2) in E minor
Karl Kaiser (transverse flute), La Stagione Frankfurt, Michael Schneider (director)
6:43 AM
Rimsky-Korsakov, Nikolai (1844-1908)
Capriccio Espagnol (Op.34)
Bergen Philharmonic Orchestra, Rafael Fruhbeck de Burgos (conductor).
Last on