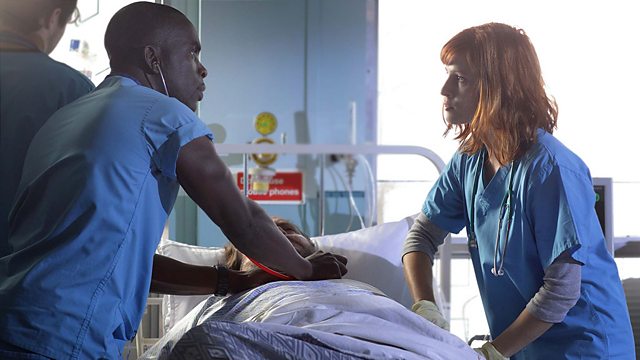 When Malick is left in charge of AAU, Michael suggests he uses his team. However Malick wades in and upsets all those around him, particularly Penny, whose diagnosis and advice he continually chooses to ignore. When a patient goes into crisis, Malick is forced to call Michael in to save the day. A bruised Malick has to face a harsh reality - not only has he failed to run things in Michael's absence, but also he should have listened to Penny, who was right all along.
Elliot is thrown when Hanssen expects him to appear before a film crew for an NHS intranet report. This blow to his confidence means he initially struggles on a case which even Connie Beauchamp failed to fully diagnose. Elliot eventually cracks the medical mystery, although his discovery sets him in opposition to Hanssen. He stands his ground in a medical emergency, and proves that he is more than capable of holding his own in a crisis situation.
Chrissie is unsettled when Hanssen mentions that she must be missing her dad. Frieda then upsets her by suggesting that she has only managed to keep her job because Mark pulled strings. Due to her lack of confidence she makes a bad call over a patient. Off the back of this she confronts Hanssen, asking him directly about Mark's influence in her avoiding redundancy. She is pleasantly surprised by Hanssen's show of faith in her, when he suggests she go for promotion.
Last on
Credits
| Role | Contributor |
| --- | --- |
| Antoine Malick | Jimmy Akingbola |
| Oliver Valentine | James Anderson |
| Penny Valentine | Emma Catherwood |
| Frieda Petrenko | Olga Fedori |
| Michael Spence | Hari Dhillon |
| Elliot Hope | Paul Bradley |
| Henrik Hanssen | Guy Henry |
| Greg Douglas | Edward MacLiam |
| Chrissie Williams | Tina Hobley |
| Sacha Levy | Bob Barrett |
| Graham Calder | Steven O'Donnell |
| Suzie Miller | Nadia Kamil |
| Isobel Langton | Eileen Page |
| Julia Calder | Emma Amos |
| Producer | Jane Wallbank |
| Director | Dermot Boyd |
| Writer | Patrick Homes |