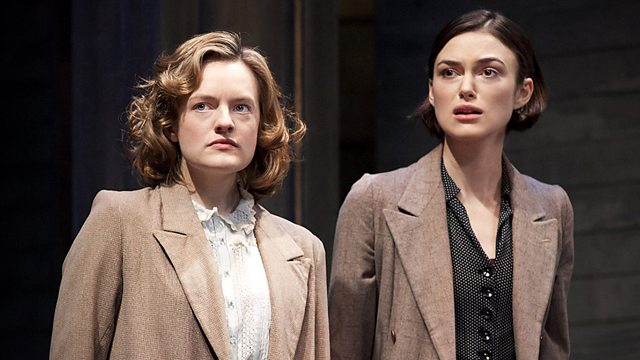 Keira Knightley on stage; the music of Bela Bartok
Listen in pop-out player
With Mark Lawson.
Keira Knightley and Elisabeth Moss, who plays Peggy in Mad Men, star in a new staging of Lillian Hellman's 1934 play The Children's Hour, which is set in a New England school where a pupil makes damaging allegations about two teachers. Kate Saunders reviews Ian Rickson's production.
The music of Hungarian composer Bela Bartok is celebrated throughout this year in a series of concerts by the Philharmonia Orchestra. Conductor Esa-Pekka Salonen and Bartok expert Professor Malcolm Gillies share their passion for the composer, and explain why the series is called Infernal Dance.
The Front Row Chain Story was launched by Bret Easton Ellis, and continued by leading writers including Booker winner Howard Jacobson. Tonight best-selling crime writer Peter James discusses a selection of lines suggested by listeners, and offers a conclusion of his own.
The link between Oscar nominated film The Fighter and the new cartoon Yogi Bear in 3D is that both movies have the making of a documentary at the centre of their plotlines. Documentary maker Jane Treays and film critic Mark Eccleston discuss the role of 'mock docs' in feature films, and how they portray documentary makers.
Producer Claire Bartleet.
Last on