Add music you love and enjoy it with
Confession: Blue Hat For A Blue Day

Simon,

Quite a few summers ago I was invited to go to ladies day at Goodwood. I had a couple of small children so to get away for a girlie day was very appealing. My dilemma was what was I going to wear?

I had bought a blue dress in the last couple of weeks ready for a wedding that I was going to so I thought that would be a good option but I didn't have a hat! That week I went to a friend's house, who showed me some recent photos of her at a wedding, and she was wearing a very expensive but perfect navy blue hat to match my dress. I summoned up the courage to ask her if I could borrow it and to my surprise she said yes. The day came and I had a thoroughly good time at the races with lots of laughs with the girls.

I came away losing my money but that was to be expected. I popped
the hat on the back shelf of my car ready to take back to my friend.

The problem was that I did not see my friend for the next few weeks
and as it was July, it was very hot and sunny. When I decided I had better take the hat out of the car I was horrified to see that half of it had faded in the sunlight. One half a deepest glorious blue, the other a feeble faded 'natural powder' blue. WHAT WAS I GOING TO DO?
I couldn't go to a shop and buy a new one as it was unique. That night in bed I had some inspiration......... I would use my liquid blue shoe polish to bring it back to the original colour.

The next morning I got up and applied the polish. The hat looked good as new. Better even. I spread the liquid polish through its foam
applicator all over the hat to make sure that it was all the same blue.

I gave the hat back to her and I didn't say a word, and she didn't notice. I had got away with it. A few weeks later she went to Goodwood on a race day and wore the hat. The problem was that it was not a beautiful day like when I went - but a very very wet one.

Well Simon, thanks to the torrential rain, the blue shoe polish leaked out of the hat, over her expensive raceday hairdo, down her face, over her outfit – EVERYWHERE – under her clothes and through her equally expensive undergarments.

When I next saw her she asked me if I'd had any problem with the dye leaking out of the hat as she knew that when I went to Goodwood it had been very hot, so if my head had got too hot the blue may have come off. 'Er, no, not at all' I lied, 'No problems at all, I can't think what could have happened'.

Please could you say a big sorry to Millie for ruining her day at the races, and to the makers of her fabulous hat, who got it in the neck from an irate Millie.

Kirsty

...NOT FORGIVEN!
Watch Simon's Edinburgh Book Club Special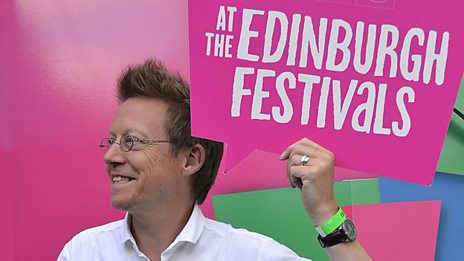 See Simon host a special Radio 2 Book Club live at Potterrow.
Podcasts
Simon Mayo considers listeners' darkest secrets and worst misdemeanours, as they beg for his…

The best bits of Simon Mayo Drivetime on BBC Radio 2, with star guests, audience interactivity,…